During the early and mid-20th century, when two-parent nuclear families were the norm in middle-class America, family dinners at home were a common evening ritual. When dad came home after a hard day's work, mom would have dinner waiting for him. Kids might have after-school activities, but were usually required to be home in time for dinner. In the 21st century, family dinners are more of an evening rarity.
According to the most recent Bureau of Labor Statistics data, 78% of women with children between the ages of 6 and 17 work outside the home. Figures from the 2000 Census show that 31% of households with children are single-parent families, up from 13% in 1970. Kids take part in more after-school activities than ever, and many parents have to go straight from work to soccer practice, piano lessons, or car pools. There simply isn't much time available for cooking, and eating is often done on the run.
Data from a December 2003 Gallup Poll* confirm that having dinner together in the evening is difficult for today's families. Slightly more than a quarter (28%) of adults with children under the age of 18 report that their families eat dinner together at home seven nights a week -- down from 37% in 1997. Almost half (47%) of parents say their families eat together between four and six times a week. Another quarter (24%) say they eat together three or fewer nights a week.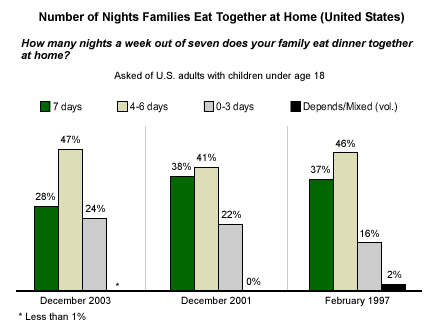 British, Canadian Families More Likely to Eat at Home Every Night
In December 2003, Gallup also asked parents in Canada and Great Britain** how often their families eat together each week. Both Canadian and British parents are more likely than American parents to say that their families have dinner at home every night; 40% of Canadian parents say so, as do 38% of British parents.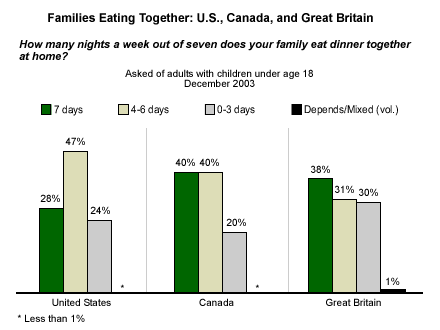 Bottom Line
According to an August 2003 Gallup Youth Survey, 20% of teenagers (aged 13 to 17) eat fast food either "every day" or "several times a week." Considering the rising prominence of youth obesity as a national health problem, it seems that teens could certainly benefit health-wise from eating more meals at home.
Also, dinnertime might be one of the few opportunities during the day that parents get to talk with their children about what's happening in their lives. All parents want to know what's going on with their children, but a 2003 study by the National Center on Addiction and Substance Abuse (CASA) at Columbia University suggests that family dinners can have some concrete benefits for teenagers. The study found that teens who have dinner with their families two nights a week or less are twice as likely to take drugs, more likely to be "high stress," more likely to say they are often bored, and less likely to perform well in school than teens who eat with their families 5 to 7 times a week.
There's no question that many families in the United States (as well as in Canada and Great Britain) do not eat dinner together as often as they should. But the news could certainly be worse. Three-fourths (75%) of U.S. parents say that their families have dinner at home at least four nights a week, as do 80% of Canadian parents and 69% of British parents. In a world as busy as ours, that may be the most today's parents can ask for.
*Results are based on telephone interviews with 331 American adults, aged 18 and older, with children under age 18, conducted Dec. 11-14, 2003. For results based on this sample, one can say with 95% confidence that the margin of sampling error is ±6 percentage points.
**Results based on telephone interviews with 348 adults with children in Canada, conducted Dec. 5-11, 2003, and telephone interviews with 328 adults with children in Great Britain, conducted Dec. 2-21, 2003. For results based on these samples, one can say with 95% confidence that the margin of sampling error is ±6 percentage points.