IRVINE, Calif. -- The decade from 1994 to 2004 was one in which the Chinese appeared to be abandoning their traditional emphasis on "working hard" to "get rich." The 2004 Gallup Poll of China showed a decline from 1994 in Chinese respondents' emphasis on "working hard" and a sharp increase in their desire to express their own individuality by living a life that suits their own tastes. It seemed the Chinese were becoming less focused on the path (working hard) and much more focused on the ultimate destination (personal fulfillment). However, the more recent 2006 Gallup Poll of China indicates that this trend might be tempering, and even reversing somewhat, with a seeming resurgence of the determination and commitment to "work hard."
Working Hard … But With New Goals?
This renascent interest in working hard doesn't necessarily imply a desire to put the proverbial shoulder to the collective wheel. What has edged upward over the past two years isn't a desire to work for a large company, whether domestic or foreign-owned, but rather the fascination with individual entrepreneurial activity. More than one in four Chinese (27%), including almost 3 in 10 (29%) urban dwellers, now express an interest in starting and owning a business.
The surveys thus reveal an intriguing combination of China's traditional diligent work ethic with the increasing desire for self-expression that was noted in the last decade. Starting (and owning) a business may represent the chance to better reap the direct, personal rewards that can result from hard work. The Chinese may be attracted to the prospect of better controlling their own destinies, with business ownership perceived as an appealing route to increase income as well as a means for self-expression and the chance to make an indelible personal mark on the world.
The slightly increased interest in starting and owning a business may also reflect a decline in the extent to which Chinese workers are satisfied with the jobs they currently have and the work they do. While dissatisfaction with jobs (and income) hasn't increased to any appreciable degree, there has been a notable decline in the percentage of Chinese respondents who indicate that they are "very satisfied" with their jobs. Only 4% of Chinese state that they are very satisfied with the work they do.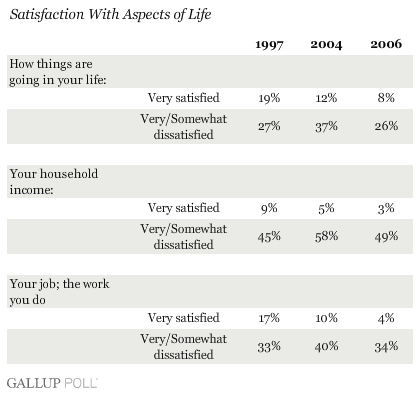 While it's unlikely that a quarter of the Chinese adult population will soon be starting their own businesses, this work-type preference trend, coupled with the job satisfaction data, may foretell a potential explosion of small-to-medium sized businesses. Regardless, this trend has ramifications for domestic and international companies seeking to attract and retain talented and motivated Chinese workers, and has implications for how companies in China will need to structure their organizations and manage their employees.
Survey Methods
Results are based on face-to-face interviews with more than 3,500 adults per year in China, aged 18 and older, conducted in 2004 and 2006. For results based on the total sample of national adults, one can say with 95% confidence that the maximum margin of sampling error is ±2 percentage points. In addition to sampling error, question wording and practical difficulties in conducting surveys can introduce error or bias into the findings of public opinion polls.