PRINCETON, NJ -- Gallup Daily polling conducted Wednesday through Friday finds essentially no change in Americans' economic mood over the previous three-day rolling average. The latest results, based on interviewing conducted Jan. 23-25, show 22% of Americans rating current economic conditions as "excellent" or "good," 46% calling them "only fair," and 32% "poor."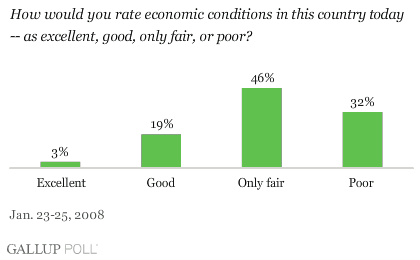 Separately, 13% of national adults say the national economy is getting better, while 82% believe it is worsening.
The trend in Americans' economic mood has been negative on both Gallup Daily indicators since Jan. 2. The percentage saying current economic conditions are "poor" rose from 24% in Jan. 2-4 polling to 31% in polling conducted Jan. 19-22, spanning a period of sharp decline in the U.S. stock market. That rating has remained at about the same highly negative level in the last three days.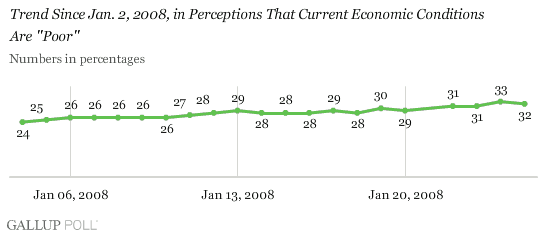 A similar pattern is seen in perceptions of the economy's direction. Between Jan. 2-4 polling and Jan. 17-19 polling, the percentage of Americans saying the economy is getting worse rose from 73% to 81%. It has held at the 81% to 82% level over the past week.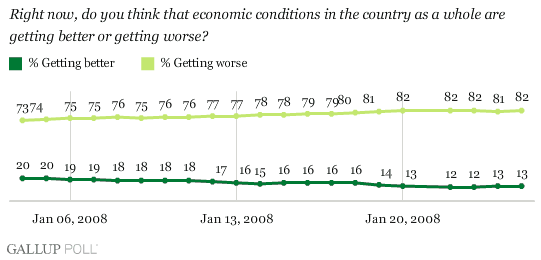 As noted Friday, this suggests that neither the Federal Reserve's surprise interest-rate cut this past week, nor recent news of an agreement between President Bush and Congress on a fiscal stimulus package, are yet swaying consumer attitudes. (If anything, these actions may be reinforcing Americans' perception that the economy is in trouble.) -- Lydia Saad
Methodology: Gallup is interviewing 1,000 U.S. adults nationwide each day during 2008. The results reported here are based on 1,435 interviews conducted Jan. 23-25, 2008. For results based on this sample, the maximum margin of sampling error is ±3 percentage points. In addition to sampling error, question wording and practical difficulties in conducting surveys can introduce error or bias into the findings of public opinion polls.