PRINCETON, NJ -- Gallup Poll Daily tracking shows Hillary Clinton and Barack Obama as close as they have been since the polling program started at the beginning of 2008. Forty-four percent of Democratic voters nationwide support Clinton, while 41% support Obama, within the poll's three-point margin of error. The data suggest that Obama has gained slightly more -- at least initially -- from John Edwards' departure from the race. In the final tracking data including Edwards in all three days' interviewing (Jan. 27-29 data), Clinton had 42%, Obama 36%, and Edwards 12%. Since then, Clinton's support has increased two points and Obama's five. Tomorrow's release will be the first pure post-Edwards three-day rolling average.
Meanwhile, John McCain continues to hold a 15-point advantage over Mitt Romney on the Republican side. Jan. 29-31 Gallup Poll Daily tracking data show 39% of GOP voters nationwide favoring McCain for the nomination, while 24% support Romney and 17% Mike Huckabee. It appears McCain is the primary beneficiary of Rudy Giuliani's campaign exit, not surprising since Giuliani endorsed McCain. McCain's support has increased by seven points compared with the Jan. 27-29 data (the last in which Giuliani was included in all three nights of interviewing). Romney's support has increased three points since then, and Huckabee's has gone down one point. It is difficult to assess the precise impact of Giuliani's departure since it essentially occurred simultaneously with McCain's win in the crucial Florida primary held Tuesday. -- Jeff Jones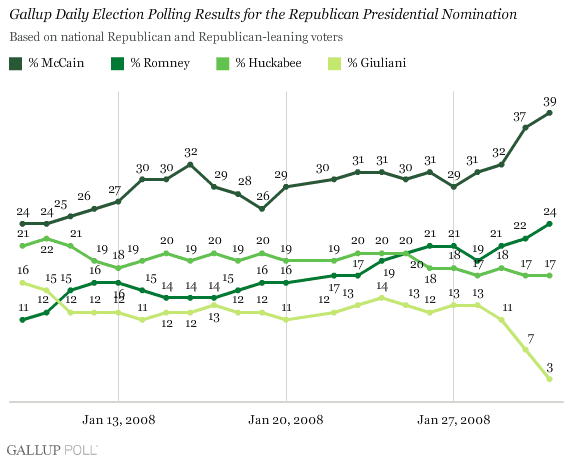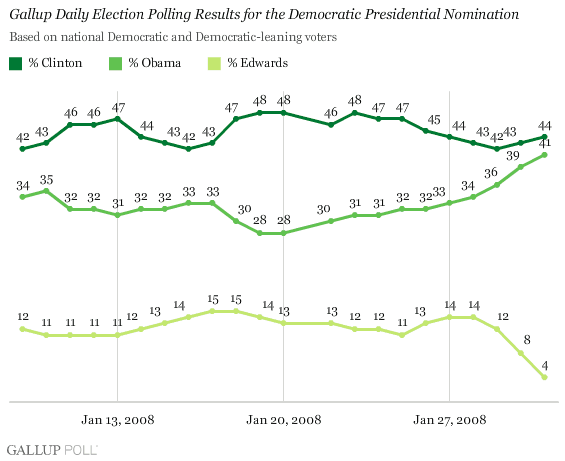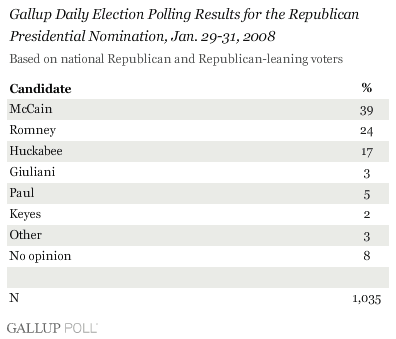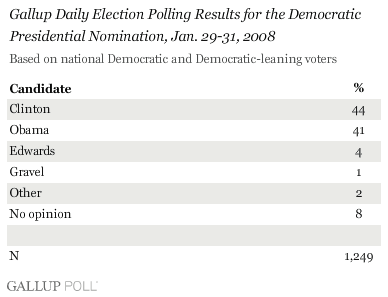 Methodology:
Gallup is interviewing 1,000 U.S. adults nationwide each day during 2008. The results reported here are based on combined data from Jan. 29-31, 2008, including interviews with 1,035 Republican and Republican-leaning voters and 1,249 Democratic and Democratic-leaning voters. For results based on these samples, the maximum margin of sampling error is ±3 percentage points. In addition to sampling error, question wording and practical difficulties in conducting surveys can introduce error or bias into the findings of public opinion polls.