PRINCETON, NJ -- Two days before the Super Tuesday primaries and caucuses, Gallup Poll Daily tracking data show Hillary Clinton (46%) and Barack Obama (44%) in a statistical dead heat in national Democratic voters' preferences for the nomination. This is the closest the candidates have been since the daily tracking program began in early January.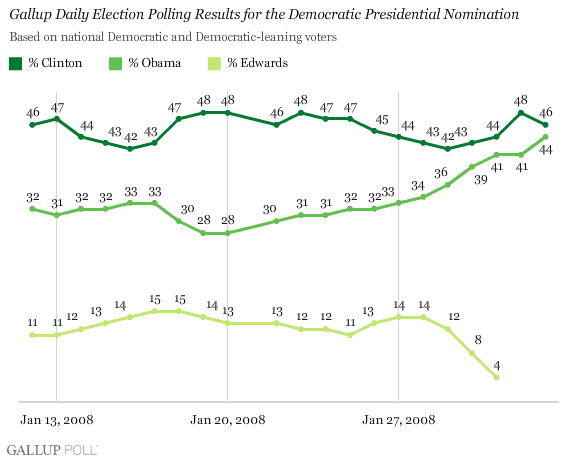 The daily numbers suggest a fluid Democratic race in recent days, perhaps because Democrats are being asked to choose between two attractive options. Obama gradually reduced Clinton's national lead from 20 percentage points in Jan. 18-20 polling to three points in the Jan. 29-31 results. John Edwards' departure from the race has aided the tightening of the race, though only partly. Obama had closed within six points of Clinton at the time Edwards suspended his campaign on Jan. 30, but further tightening of the race suggests that Obama has benefited more from Edwards leaving than Clinton. Clinton appeared to reverse the trend toward Obama with a strong day on Feb. 1 -- the first day of interviewing after the Thursday night debate between the two candidates in Hollywood. But Saturday's polling showed a strong day for Obama, bringing the candidates back closer together in the latest three-day rolling average.
The Republican race appears somewhat more stable, with John McCain solidifying the gains he made after his recent primary victories in South Carolina and Florida and settling into a firm front-runner status. McCain remains well ahead of his main challenger Mitt Romney, 43% to 24%, in national Republican voters' nomination preferences. Saturday's Gallup release had McCain up by 44% to 24%. Thus, McCain appears well-positioned heading into the Super Tuesday primaries as GOP voters in 21 states register their presidential nomination preferences. -- Jeff Jones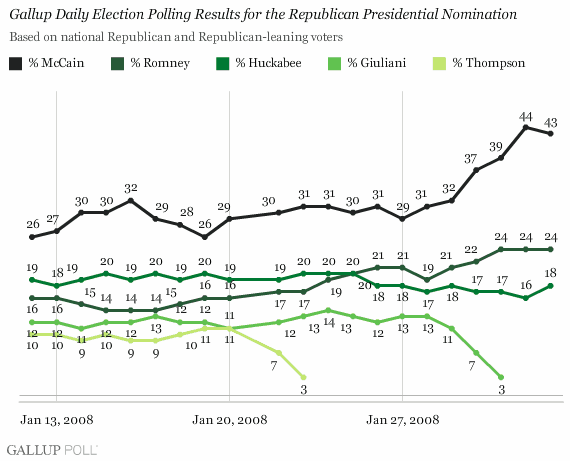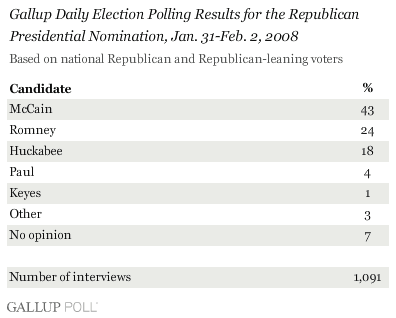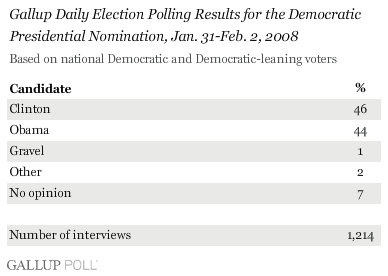 Methodology:
Gallup is interviewing 1,000 U.S. adults nationwide each day during 2008. The results reported here are based on combined data from Jan. 31-Feb. 2, 2008, including interviews with 1,091 Republican and Republican-leaning voters and 1,214 Democratic and Democratic-leaning voters. For results based on these samples, the maximum margin of sampling error is ±3 percentage points. In addition to sampling error, question wording and practical difficulties in conducting surveys can introduce error or bias into the findings of public opinion polls.