PRINCETON, NJ -- Barack Obama maintains a one-point lead over Hillary Clinton among Democrats nationally for the Democratic presidential nomination, meaning the two candidates remain statistically tied.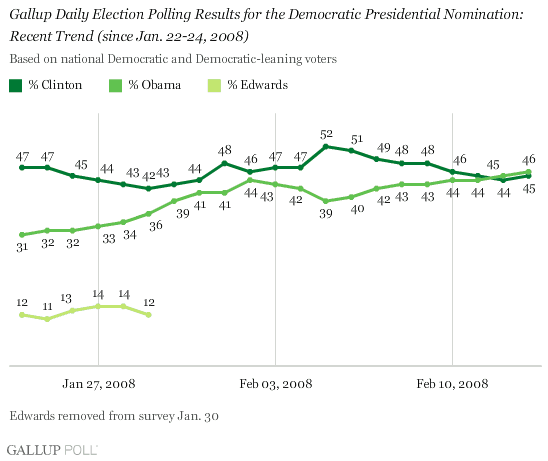 In Gallup Poll Daily tracking conducted Feb. 11-13, 46% of national Democratic and Democratic-leaning voters support Obama, and 45% support Clinton. This is little changed from the three-day rolling average Gallup reported Feb. 13 (based on Feb. 10-12 polling). Interviewing conducted on Wednesday night, after Obama's convincing Tuesday primary wins in Virginia, Maryland, and the District of Columbia, showed Obama with only a slight lead over Clinton, suggesting no immediately substantial pick-up by Obama on the heels of the mostly positive press he received as a result of the wins. Still, the last two days' rolling averages represent the first time in the Gallup Poll Daily tracking that Obama has had a lead of any kind over Clinton.
The Obama campaign is attempting to consolidate its recent victories and to claim the coveted momentum and/or inevitability mantle in the campaign, while the Clinton team is attempting to emphasize Clinton's chances of winning big in the coming key state primaries in Ohio and Texas. The Gallup Poll tracking data suggest that, as far as the sentiments of their fellow Democrats around the country are concerned, neither candidate can currently claim the right to be called the front-runner.
The Republican race is also unchanged from Feb. 13. John McCain continues to win the support of a just a bare majority of Republican and Republican-leaning voters across the country for the Republican presidential nomination (51%), while Mike Huckabee attracts 29%.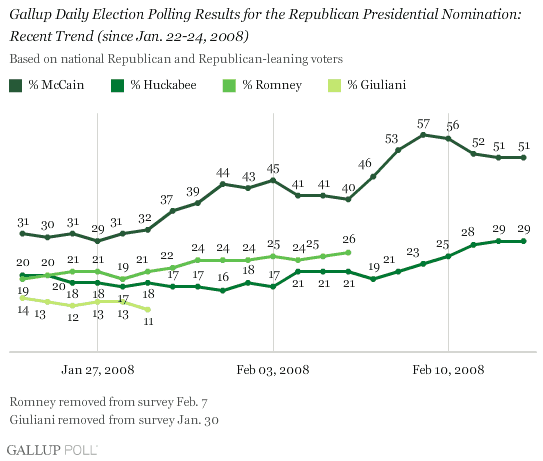 It is now widely considered all but inevitable that McCain will amass enough delegates to win the Republican nomination. However, there is no sign yet in the data that he is moving to a position of "supermajority" front-runner status among Republicans across the country. -- Frank Newport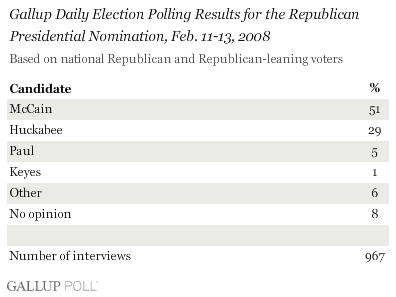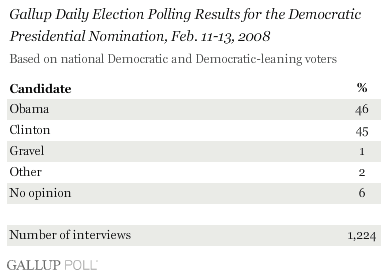 Methodology: The results reported here are based on combined data from Feb. 11-13, 2008, including interviews with 967 Republican and Republican-leaning voters and 1,224 Democratic and Democratic-leaning voters. For results based on these samples, the maximum margin of sampling error is ±3 percentage points. In addition to sampling error, question wording and practical difficulties in conducting surveys can introduce error or bias into the findings of public opinion polls.