PRINCETON, NJ -- Being "a man for his times" is among the highest praise a president could want or need. But two past presidents, both long out of office, are widely seen as the right man for today.
John F. Kennedy and Ronald Reagan are each chosen by about a quarter of Americans as the former president they would most like to bring back as the next president of the United States if they could. That is not to say Americans would choose Kennedy or Reagan over all of the current candidates for president. Rather, if they could select from the presidents whose images now hang at the National Portrait Gallery, these would be their top choices.
Bill Clinton and Abraham Lincoln are roughly tied for third (chosen by 13% and 10% of Americans, respectively), with Franklin Roosevelt trailing closely behind. No other president is named by more than 5% of Americans, but a number are mentioned by at least 1%. (The full list of responses is shown at the end of this report.)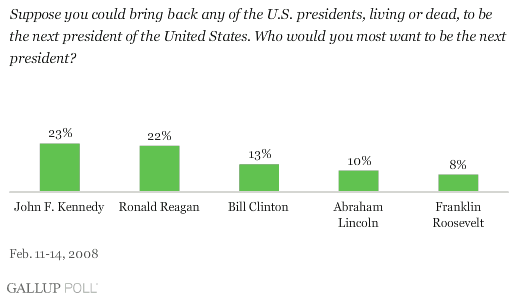 Bring Back Reagan
Republicans are unambiguous about whom they would restore to office if they could. Reagan wins an outright majority (51%) of their votes.
Two of Republicans' top five choices are Democrats: Kennedy, at 12% (roughly tied with Abraham Lincoln for second place), and Franklin Roosevelt, in fifth place with 4%.
The other name in the Republicans' top five is George Washington, in fourth place with 6%.
Besides Reagan and Kennedy, no other modern-day president -- most notably Republicans George H.W. Bush, Gerald Ford, and Richard Nixon -- is mentioned by more than a handful of Republicans.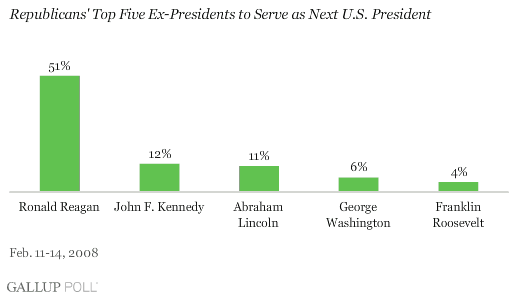 Clinton or Camelot?
Democrats are less settled on one particular president as their hypothetical choice to return to the Oval Office. The most popular ex-president for the job is Kennedy, mentioned by 34%. However, Clinton ranks a fairly close second, with 24%. Roosevelt is favored for the position by 12% of Democrats.
Seven percent of Democrats would bring back the symbolic father of the Republican Party -- Lincoln -- as president, while 4% would restore Democratic Party founder Thomas Jefferson.
Independents' views are a hybrid of Republican and Democratic opinions; their top choices are Reagan (with 21%) and Kennedy (with 19%). These are followed by Lincoln, Clinton, and Roosevelt.
Boomers vs. Generation X
Nostalgia appears to play a modest role in Americans' choice of past president to serve the country today. The most popular choice of Baby Boomers, now aged about 50 to 64, is the man who was president of their youth: Kennedy. The top choice of those 30 to 49 years of age (broadly speaking, Generation X) is the president who served during their childhood or young adult years: Reagan.
Seniors are more likely than any other group to choose Roosevelt. Younger adults -- those 18 to 29 and 30 to 49 -- are the most likely to choose Clinton.
Survey Methods
Results are based on telephone interviews with 1,007 national adults, aged 18 and older, conducted Feb. 11-14, 2008. For results based on the total sample of national adults, one can say with 95% confidence that the maximum margin of sampling error is ±3 percentage points. In addition to sampling error, question wording and practical difficulties in conducting surveys can introduce error or bias into the findings of public opinion polls.
Results based on 276 Republicans have a maximum margin of sampling error of ±6 percentage points. Results based on 389 Democrats have a maximum margin of sampling error of ±5 percentage points. Results based on 331 independents have a maximum margin of sampling error of ±6 percentage points.