PRINCETON, NJ -- Roughly one year after the United States began increasing the number of troops it has in Iraq, Americans give the "surge" their most positive assessment to date.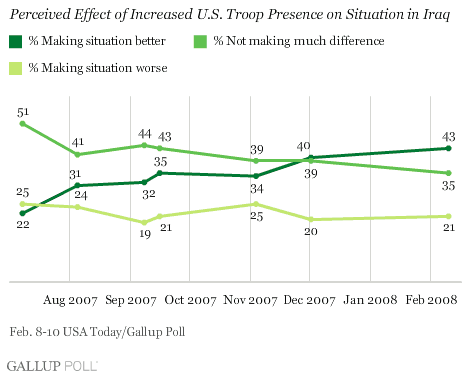 Nevertheless, basic attitudes about the war are largely unchanged, including views about setting a timetable for U.S. troop withdrawal. The majority of Americans continue to favor a timetable for withdrawal, though relatively few favor a rapid withdrawal, similar to what Democratic presidential candidate Barack Obama is advocating. Six in 10 express opposition to the war effort more generally.
The Feb. 8-10 USA Today/Gallup poll was conducted just before Secretary of Defense Robert Gates announced his probable support for a "pause" in U.S. troop withdrawals this summer after several brigades are removed as planned, which would result in the United States at least temporarily maintaining a troop force larger than pre-surge levels. Gates argues that a pause may be needed to evaluate whether the security gains made in Iraq can be maintained with smaller forces.
According to the poll, 43% of Americans say the surge of U.S. troops in Iraq is making the situation there better, a slight increase from 40% in late November, but up more substantially from 34% in early November. This is the most positive review of the surge Gallup has measured since it began. Thirty-five percent now say the surge is not making much difference, and just 21% say it is making things worse.
Republicans, Democrats, and independents have divergent views of the surge. Seventy-five percent of Republicans say it is making things better in Iraq, compared with 40% of independents and 21% of Democrats. Democrats are most likely to believe the surge is "not making much difference."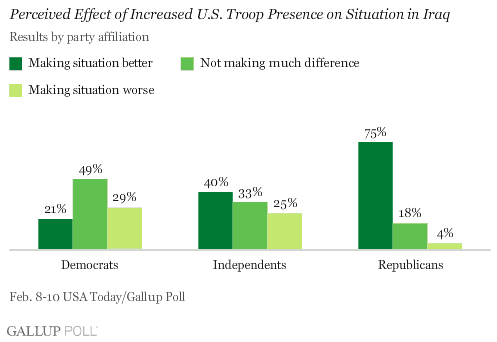 But perceptions of progress brought by the surge have done little to move Americans' well-entrenched views of the war. The majority, 56%, still favors setting a timetable for removing U.S. troops from Iraq and sticking to that timetable "regardless of what is going on in Iraq at the time." That is little different from the 59% and 60% readings Gallup obtained last May through November, when views of the surge were not as optimistic as they are today. Currently, 39% of Americans oppose a timetable.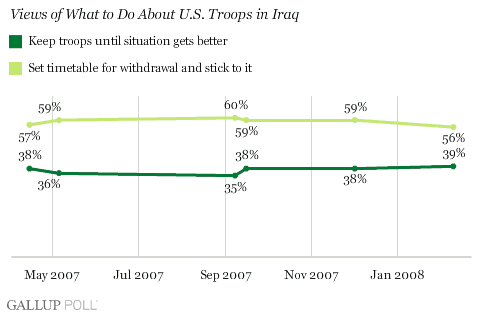 Those who favor a timetable are more than twice as likely to favor a schedule of gradual troop withdrawal (67%) as they are to prefer a more immediate removal of troops (32%). All told, 18% of Americans favor removing troops from Iraq as rapidly as possible.
Both Democratic presidential candidates, Obama and Hillary Clinton, favor a timetable, while the GOP's likely nominee, John McCain, strongly opposes one. Obama is advocating a fairly rapid withdrawal of U.S. troops from Iraq, which would have all troops out within 16 months of his taking office. Clinton favors a slower withdrawal, which would be complete by 2013. Thus, no candidate's position really represents the views of most Americans, but the poll suggests that currently McCain's and Clinton's positions are closest to the largest number of Americans. This is not to suggest that Americans would necessarily oppose any of the candidates' Iraq policies should they be elected president.
Americans who do not assess the surge positively overwhelmingly advocate a timetable, including 76% of those who see the surge as not making much difference, and 86% of those who think it is making things worse. Meanwhile, Americans who believe the surge is working are solidly against (70%) a timetable.
In the current poll, 60% oppose the decision to go to war: they call the decision to send troops a mistake, one of the highest readings to date. A majority has called the war a mistake in all but a few Gallup measurements since the summer of 2005, and since January 2007, the percentage has been closer to 60% than to 50%.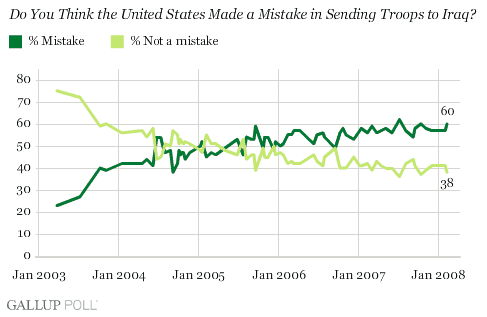 Implications
Even with mostly positive reports out of Iraq in recent months, Americans' expressed desire for a timetable for troop withdrawal has largely remained unchanged. Defense Secretary Gates' recent announcement appears to be at odds with that sentiment. Gates is arguing that the military needs time to evaluate whether the United States can maintain the security gains it has made in Iraq with a smaller force. It is unclear at this point whether Americans would support temporarily halting troop withdrawal to allow for a period of evaluation after an initial drawdown.
Survey Methods
Results are based on telephone interviews with 1,016 national adults, aged 18 and older, conducted Feb. 8-10, 2008. For results based on the total sample of national adults, one can say with 95% confidence that the maximum margin of sampling error is ±3 percentage points.
Interviews are conducted with respondents on land-line telephones (for respondents with a land-line telephone) and cellular phones (for respondents who are cell-phone only).
In addition to sampling error, question wording and practical difficulties in conducting surveys can introduce error or bias into the findings of public opinion polls.