PRINCETON, NJ -- Barack Obama and Hillary Clinton are now tied in national Democratic presidential preferences, based on Feb. 18-20 Gallup Poll Daily tracking.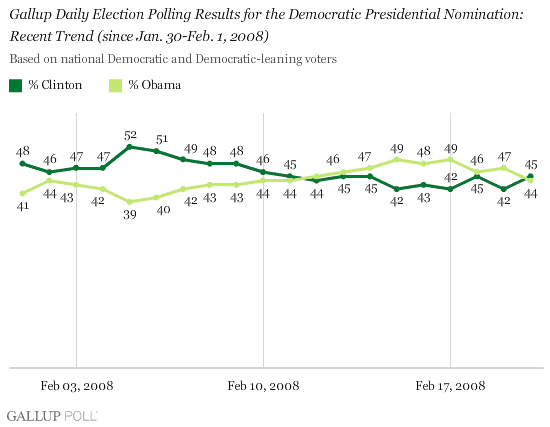 The latest three-day average finds Clinton favored by 45% of Democratic and Democratic-leaning voters and Obama by 44%. Gallup interviews from Feb. 19, the first day following Obama's strong win in Tuesday's Wisconsin primary, do not show an increase in Obama's support that some might have expected as a result.
Clinton's technical one-percentage point lead is the first time she has been ahead of Obama in Gallup Daily Poll tracking since Feb. 9-11, although it is statistically indistinguishable from Obama's one-point lead in Gallup's Feb. 16-18 interviewing.
While the Democratic race continues to play out as a tug-of-war between Clinton and Obama, the Republican race is growing less and less competitive. John McCain's lead over Mike Huckabee stretched to 40 points in the latest three-day tracking, 62% to 22%. This is up from McCain's 34-point lead in Tuesday's release based on Feb. 17-19 interviews, and from his 22-point lead one week ago.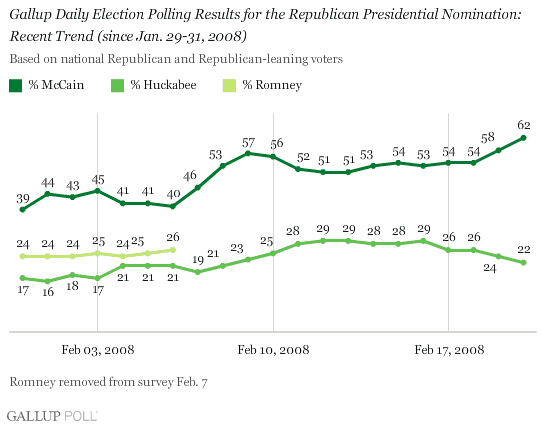 McCain's campaign is now reacting to a New York Times article that raised questions about the Arizona senator's actions on behalf of special interests and his relationship to a female lobbyist. The latest polling was conducted prior to the publication of this story. (Note: The next Gallup Poll Daily tracking report will be on Saturday, Feb. 23; there will be no interviewing on Thursday, Feb. 21.) -- Lydia Saad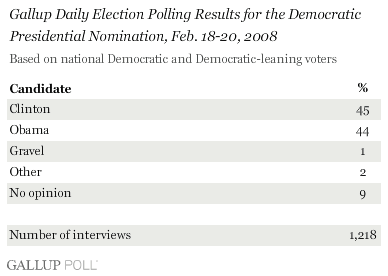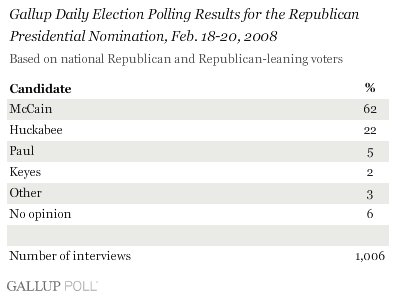 Methodology: Gallup is interviewing no fewer than 1,000 U.S. adults nationwide each day during 2008. The results reported here are based on combined data from Feb. 18-20, 2008, including interviews with 1,006 Republican and Republican-leaning voters, and 1,218 Democratic and Democratic-leaning voters. For results based on these samples, the maximum margin of sampling error is ±3 percentage points. In addition to sampling error, question wording and practical difficulties in conducting surveys can introduce error or bias into the findings of public opinion polls.