PRINCETON, NJ -- Barack Obama maintains a significant lead, 49% to 42%, over Hillary Clinton in Gallup Poll Daily tracking's new update on nationwide Democratic voters' presidential nomination preferences.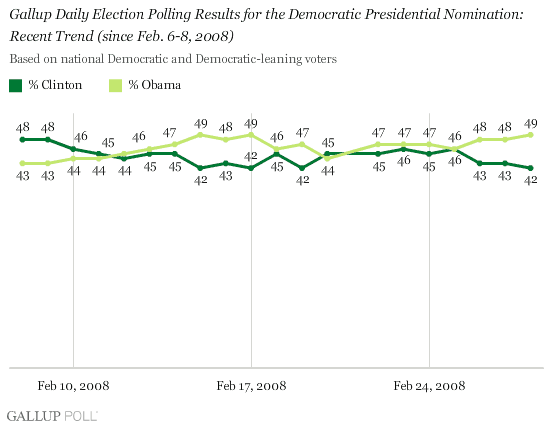 Obama has held a statistically significant lead in the last three days' releases (Feb. 24-26 to Feb. 26-28), leading by five percentage points initially and now by seven points. Clinton last held a significant lead in Feb. 7-9 polling. Tuesday's primaries in Texas and Ohio will go a long way toward determining whether Obama will become the presumptive nominee, or if the campaign will continue with Pennsylvania becoming the next critical contest on April 22.
John McCain is already the presumptive Republican nominee, and has held a lead since the Jan. 10-12 tracking data, just after his win in the Jan. 8 New Hampshire primary. His lone notable challenger is Mike Huckabee, who trails McCain by 60% to 26% in the latest tracking results.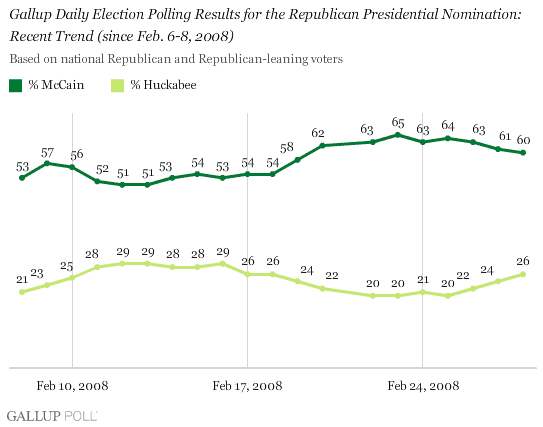 Huckabee's support has increased slightly in recent days, but still falls below his high thus far of 29%. Huckabee led the GOP field at the start of Gallup Poll Daily tracking in early January, right after he won the Iowa caucuses on Jan. 3, before he was overtaken by McCain. -- Jeff Jones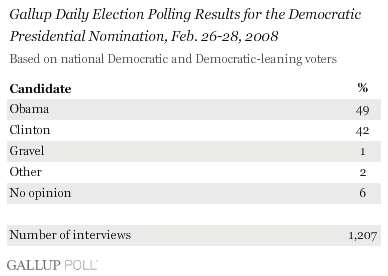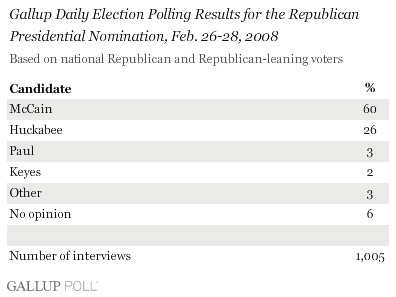 Methodology: Gallup is interviewing no fewer than 1,000 U.S. adults nationwide each day during 2008. The results reported here are based on combined data from Feb. 26-28, 2008, including interviews with 1,005 Republican and Republican-leaning voters, and 1,207 Democratic and Democratic-leaning voters. For results based on these samples, the maximum margin of sampling error is ±3 percentage points. In addition to sampling error, question wording and practical difficulties in conducting surveys can introduce error or bias into the findings of public opinion polls.