PRINCETON, NJ -- Today's Gallup Poll Daily tracking update finds Barack Obama with an eight percentage point advantage over Hillary Clinton (50% to 42%), this gives him a statistically significant advantage for the first time since before the Rev. Jeremiah Wright controversy.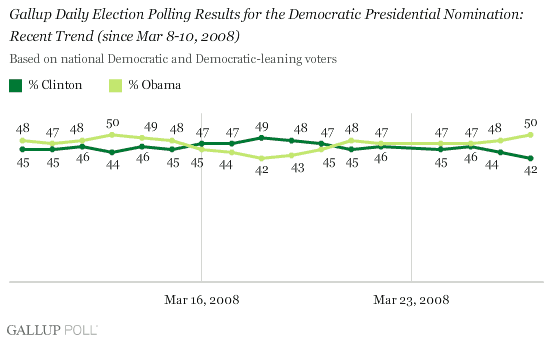 Obama last held a significant lead over Clinton in March 11-13 polling, just before Wright's controversial sermons came to light and put his former parishioner on the defensive. Clinton seemed to benefit from the Wright flap, moving into the lead in two consecutive days of tracking releases (based on March 16-18 and March 17-19 polling). That lead quickly dissipated and the two candidates retreated into a statistical dead heat, where they have been for much of the recent campaign. (To view the complete trend since Jan. 3, 2008, click here.)
Obama's current 8-point advantage ties his largest lead of the Gallup Poll Daily tracking program, along with a 50% to 42% showing in Feb. 28-March 1 polling. Obama clearly has weathered the Wright storm, while the dark clouds have shifted to Clinton over whether she has exaggerated her foreign policy credentials. This week she has had to defend her repeated claim that she came under sniper fire while visiting Bosnia as first lady, which news video clearly disputed.
Many Democrats are concerned that the ongoing nomination campaign -- which has grown increasingly contentious in recent weeks -- will hurt the party in the general election. Right now, the races remain close, but Republican John McCain has an edge over both Clinton and Obama in registered voters' general election preferences. In the new Gallup Poll Daily tracking update, McCain has a statistically significant 4-point lead over Clinton (48% to 44%) and a smaller 2-point advantage over Obama (46% to 44%). -- Jeff Jones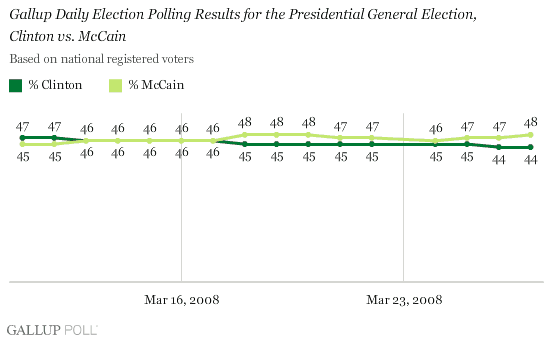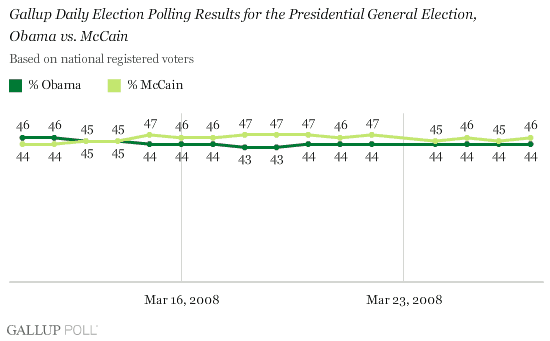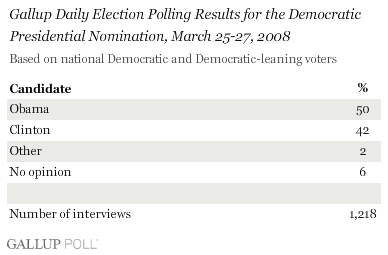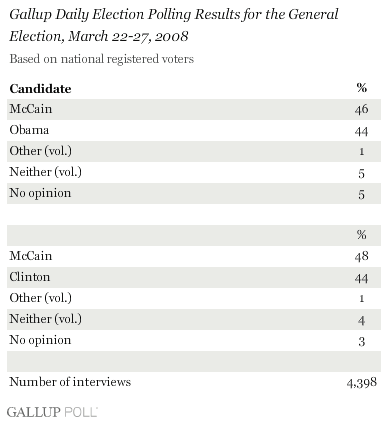 Survey Methods
Gallup is interviewing no fewer than 1,000 U.S. adults nationwide each day during 2008.
The general election results are based on combined data from March 22 and March 24-27, 2008. For results based on this sample of 4,398 registered voters, the maximum margin of sampling error is ±2 percentage points.
The Democratic nomination results are based on combined data from March 25-27, 2008. For results based on this sample of 1,218 Democratic and Democratic-leaning voters, the maximum margin of sampling error is ±3 percentage points.
In addition to sampling error, question wording and practical difficulties in conducting surveys can introduce error or bias into the findings of public opinion polls.
To receive Gallup Poll Daily tracking reports each day as soon as they are published, please register here and add Gallup Daily to your e-mail subscriptions.