PRINCETON, NJ -- Barack Obama continues to hold a significant lead over Hillary Clinton, 51% to 43%, in Democratic voters' presidential nomination preferences.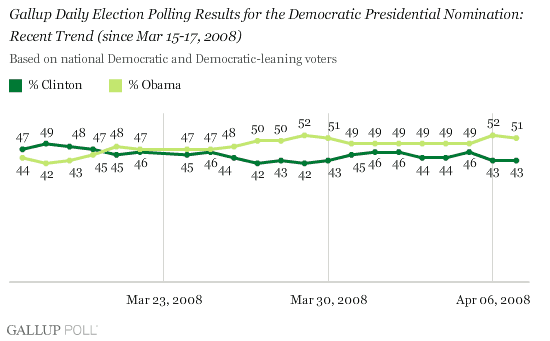 Gallup Poll Daily tracking from April 5-7 shows Obama with an eight percentage point advantage, similar to the 9-point advantage he enjoyed in Monday's release. Both days rank among Obama's best to date, with his high-water mark a 10-point advantage in March 27-29 polling. (To view the complete trend since Jan. 3, 2008, click here.)
The real question is whether Obama can sustain an advantage, something he has been unable to do thus far. His best stretch was a four-day run of statistically significant leads spanning March 25-27 through March 28-30 polling, when Clinton came under scrutiny for exaggerating the danger she faced on a trip to Bosnia as first lady.
All three presidential candidates -- Clinton, Obama, and Republican John McCain -- will spend time today in senate hearings questioning Gen. David Petraeus and Ambassador Ryan Crocker about U.S. progress in the Iraq War. This will return the Iraq War issue to the forefront of the campaign -- an issue that offers a stark contrast between ardent war supporter McCain and the Democrats, who are critical of the war.
The full impact of the hearings on general election preferences will be known in coming days. Gallup Poll Daily tracking based on April 3-7 data shows slight movement toward the Democrats before the hearings took place. Obama has nudged ahead of McCain by one percentage point, 45% to 44%, after the two were tied the prior three days. That 1-point advantage is not statistically significant, but is notable in that it is the first time in almost a month that McCain has not been ahead of nor tied with Obama.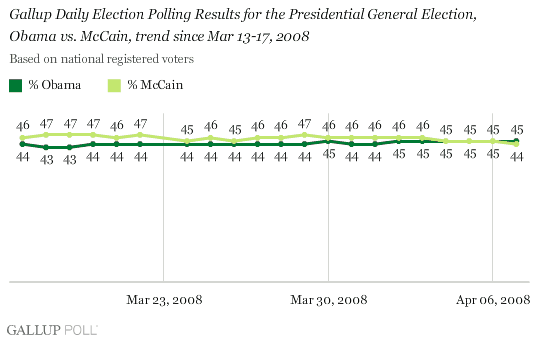 Clinton has also picked up versus McCain in the latest trial heat, which now shows an even race with 46% of registered voters supporting each candidate. McCain held a 2-point advantage for the prior three days. Today's results mark the first time in nearly a month that McCain has not held at least a slight edge over Clinton. -- Jeff Jones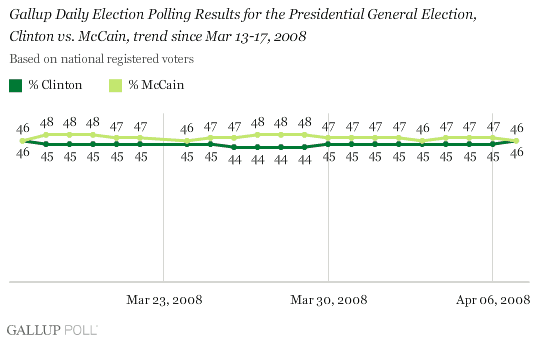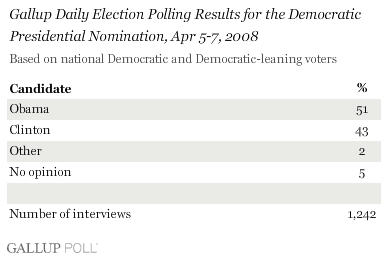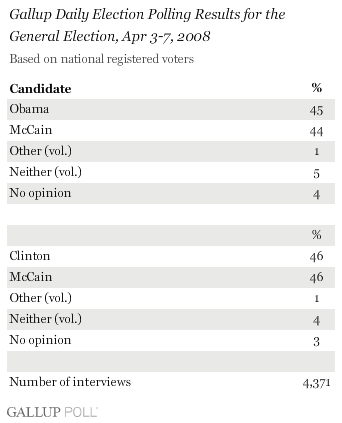 Survey Methods
Gallup is interviewing no fewer than 1,000 U.S. adults nationwide each day during 2008.
The general election results are based on combined data from April 3-7, 2008. For results based on this sample of 4,371 registered voters, the maximum margin of sampling error is ±2 percentage points.
The Democratic nomination results are based on combined data from April 5-7, 2008. For results based on this sample of 1,242 Democratic and Democratic-leaning voters, the maximum margin of sampling error is ±3 percentage points.
In addition to sampling error, question wording and practical difficulties in conducting surveys can introduce error or bias into the findings of public opinion polls.
To receive Gallup Poll Daily tracking reports each day as soon as they are published, please register here and add Gallup Daily to your e-mail subscriptions.