PRINCETON, NJ -- The peeling away of national Democratic support for Barack Obama seen this past week may have run its course. After trailing Hillary Clinton by one percentage point in Saturday's Gallup Poll Daily tracking report, Obama now leads Clinton by two points, 47% to 45%.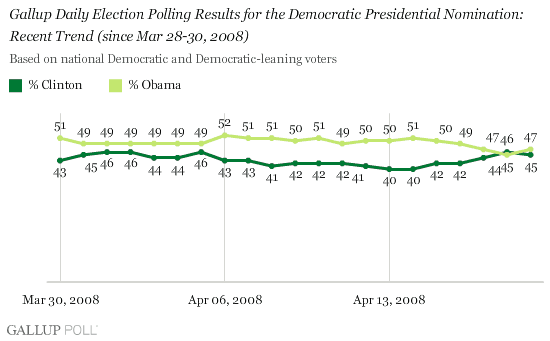 Today's results are based on Gallup Poll Daily tracking conducted Thursday through Saturday, April 17-19, 2008.
Obama's largest lead to date in the Democratic nomination race came less than a week ago when he led Clinton by 11 points, 51% to 40%. However, Obama's support began to erode slightly even before the highly publicized April 16 Democratic debate in Philadelphia, and fell more significantly in the two days immediately after it. His advantage whittled away to a 1-point deficit in April 16-18 tracking, the first time since mid-March that Clinton's share of the vote exceeded Obama's, albeit by a statistically insignificant margin. (To view the complete trend since Jan. 3, 2008, click here.)
In a race seemingly constrained by the laws of motion -- "what goes up must come down" --, Obama has for now stemmed the recent drop in his support and is back in front of Clinton, albeit with a non-significant 2-point lead.
At the same time, the general election preferences of national registered voters have held fairly steady. In a trial heat between Obama and Republican John McCain, the two are now tied at 45%. This is a slight improvement for McCain who trailed Obama by as much as three points earlier in the month, but more broadly reflects the pattern seen since late March of a generally close race. Clinton leads McCain by one point, 46% to 45%, similar to where that hypothetical contest has been since early April. -- Lydia Saad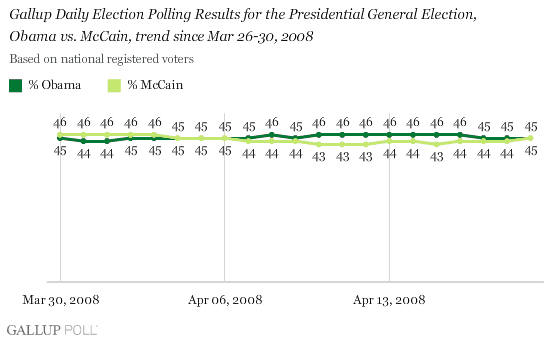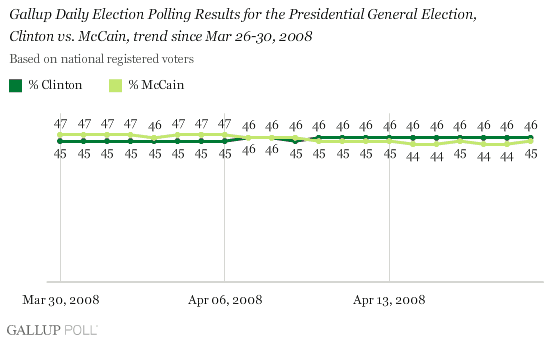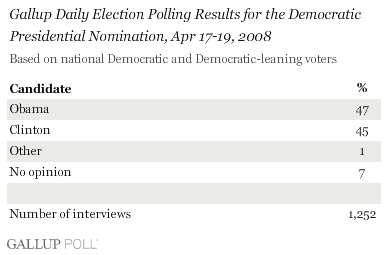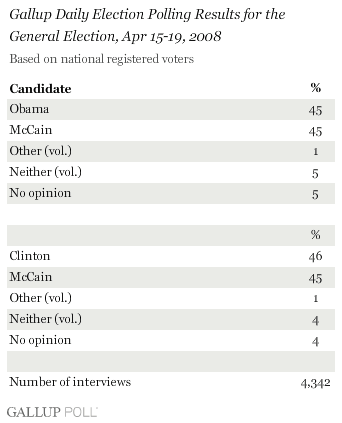 Survey Methods
For the Gallup Poll Daily tracking survey, Gallup is interviewing no fewer than 1,000 U.S. adults nationwide each day during 2008.
The Democratic nomination results are based on combined data from April 17-19, 2008. For results based on this sample of 1,252 Democratic and Democratic-leaning voters, the maximum margin of sampling error is ±3 percentage points.
The general election results are based on combined data from April 15-19, 2008. For results based on this sample of 4,342 registered voters, the maximum margin of sampling error is ±2 percentage points.
In addition to sampling error, question wording and practical difficulties in conducting surveys can introduce error or bias into the findings of public opinion polls.
To receive Gallup Poll Daily tracking reports each day as soon as they are published, please register here and add Gallup Daily to your e-mail subscriptions.
To provide feedback or suggestions about how to improve Gallup.com, please e-mail feedback@gallup.com.