PRINCETON, NJ -- The Gallup Poll Daily tracking update based on April 21-23 interviewing shows Barack Obama holding a narrower advantage over Hillary Clinton than he has in recent days, 49% to 44%, in nationwide Democratic nomination preferences.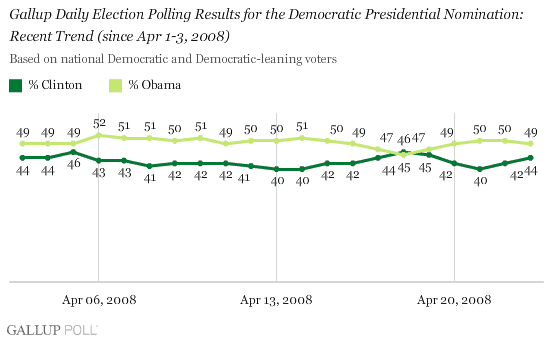 These are the first results to include any interviewing following Clinton's impressive victory in the Pennsylvania primary on Tuesday. Though the gap between the two has narrowed -- down to five percentage points from 10 and 8-point Obama leads the prior two days -- Obama remains ahead. Notably, he outpolled Clinton slightly in Wednesday night interviewing, the first night of post-Pennsylvania primary data collection. The full impact of the Pennsylvania results will be apparent in the coming days, though the initial indications are that it has helped Clinton, so far her win has not dramatically altered the dynamics of the race at the national level. (To view the complete trend since Jan. 3, 2008, click here.)
The candidates have turned their attention to the May 6 primaries in Indiana and North Carolina, with Indiana perhaps becoming Clinton's latest "last stand" contest with Obama holding a big lead in North Carolina pre-election polls. Clinton was able to keep her campaign alive by winning previous "last stand" contests in New Hampshire, Ohio and Texas (primary), and now Pennsylvania.
Both Democrats are running exactly even with John McCain in Gallup's presidential trial heats among registered voters, with the McCain-Obama contest at 45% to 45% and the McCain-Clinton match up at 46% to 46%. -- Jeff Jones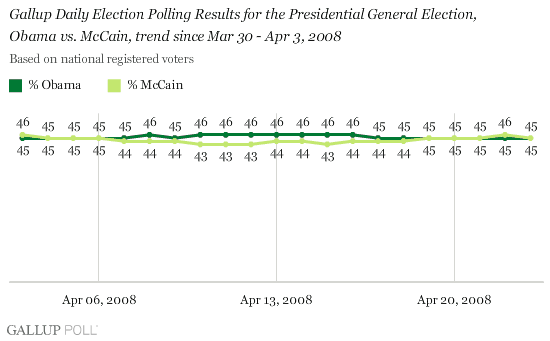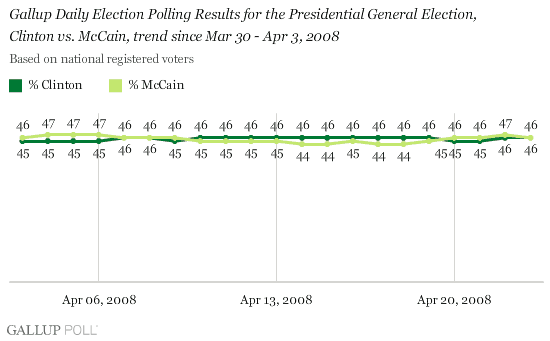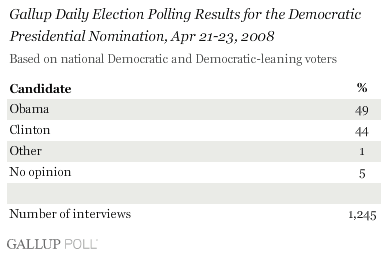 Register to get Gallup Poll Daily tracking reports delivered to you as soon as they are published!
Survey Methods
For the Gallup Poll Daily tracking survey, Gallup is interviewing no fewer than 1,000 U.S. adults nationwide each day during 2008.
The Democratic nomination results are based on combined data from April 21-23, 2008. For results based on this sample of 1,245 Democratic and Democratic-leaning voters, the maximum margin of sampling error is ±3 percentage points.
The general election results are based on combined data from April 19-23, 2008. For results based on this sample of 4,385 registered voters, the maximum margin of sampling error is ±2 percentage points.
In addition to sampling error, question wording and practical difficulties in conducting surveys can introduce error or bias into the findings of public opinion polls.
To provide feedback or suggestions about how to improve Gallup.com, please e-mail feedback@gallup.com.