PRINCETON, NJ -- The Democratic nomination race is now tied, with Barack Obama favored by 48% of national Democratic voters and Hillary Clinton by 47%.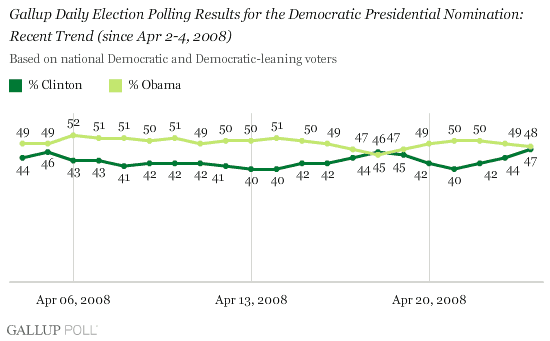 The latest results, based on Gallup Poll Daily tracking from April 22-24, include two days of interviews conducted entirely after Tuesday's Pennsylvania Democratic primary. Support for Clinton is significantly higher in these post-primary interviews than it was just prior to her Pennsylvania victory, clearly suggesting that Clinton's win there is the catalyst for her increased national support.
Obama's lead dwindled steadily all week, falling from a high of 10 percentage points in interviewing conducted in the three days just prior to the Pennsylvania primary. However, the percentage of Democrats supporting Obama has changed little (declining from 50% in April 19-21 polling to 48% today). Most of Clinton's increased support (from 40% to 47%) has come from previously undecided voters. (To view the complete trend since Jan. 3, 2008, click here.)
Both Clinton and Obama have experienced surges in support for their candidacies at various times since the start of the primary season -- several of them linked with primary wins and other high profile events -- only to see the race revert back to a near tie position. The last time Clinton moved into a significant lead over Obama was over a month ago, in mid-March, and that was only briefly. It remains to be seen whether Clinton will pull ahead of Obama in the next few days, or if she is able to sustain her current competitive positioning through and beyond the next round of primaries on May 6.
Clinton fares slightly better than Obama against John McCain in hypothetical matchups for the November election. Although both races are too close to call given the poll's margin of error, Clinton is running two points ahead of McCain, 47% to 45%, while Obama is running one point behind, 45% to 46%. -- Lydia Saad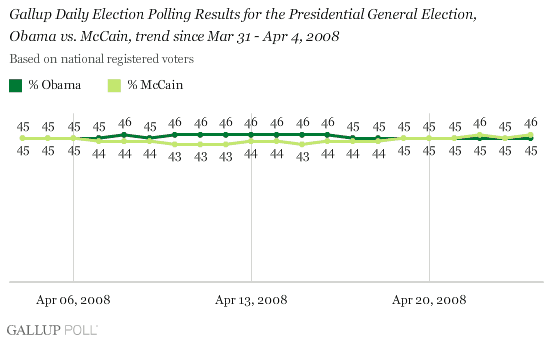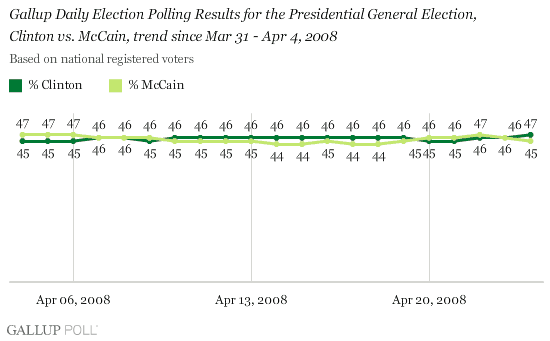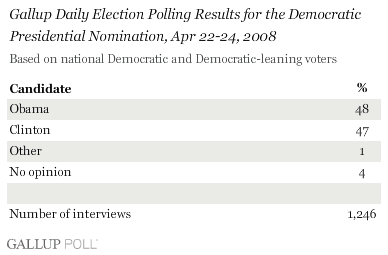 Register to get Gallup Poll Daily tracking reports delivered to you as soon as they are published!
Survey Methods
For the Gallup Poll Daily tracking survey, Gallup is interviewing no fewer than 1,000 U.S. adults nationwide each day during 2008.
The Democratic nomination results are based on combined data from April 22-24, 2008. For results based on this sample of 1,246 Democratic and Democratic-leaning voters, the maximum margin of sampling error is ±3 percentage points.
The general election results are based on combined data from April 20-24, 2008. For results based on this sample of 4,410 registered voters, the maximum margin of sampling error is ±2 percentage points.
In addition to sampling error, question wording and practical difficulties in conducting surveys can introduce error or bias into the findings of public opinion polls.
To provide feedback or suggestions about how to improve Gallup.com, please e-mail feedback@gallup.com.