PRINCETON, NJ -- Gallup Poll Daily tracking finds national Democratic voters evenly divided in their presidential nomination preferences between Barack Obama and Hillary Clinton.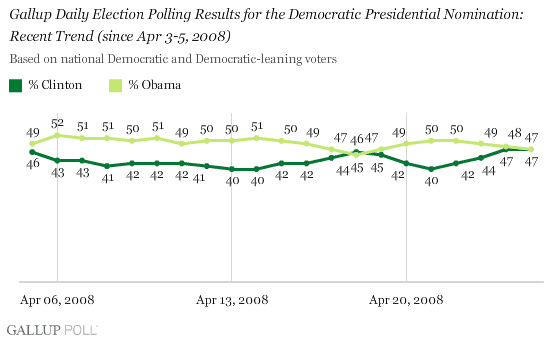 These results, based on April 23-25 polling, are the first in which all interviews were conducted after Clinton's Tuesday Pennsylvania primary win, so it is clear that her victory there helped to erase Obama's lead. Obama led the race for much of April, while Clinton has not held a statistically significant lead since mid-March, and then only briefly. (To view the complete trend since Jan. 3, 2008, click here). The question now becomes whether Clinton can keep the momentum going to regain a lead over Obama heading into the May 6 primaries.
Clinton has also established a slight advantage over John McCain in general election preferences among national registered voters. The latest results, based on April 21-25 polling, shows Clinton at 47% and McCain at 44%.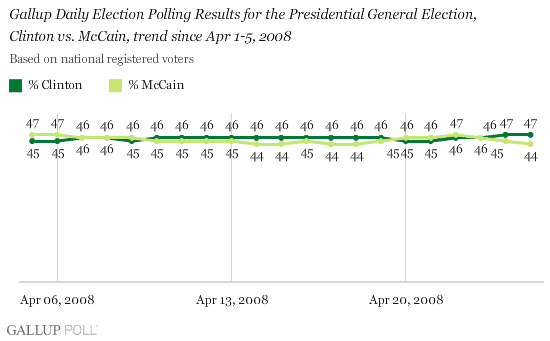 Obama currently does not fare as well in the general election, only tying McCain at 45% in the latest polling.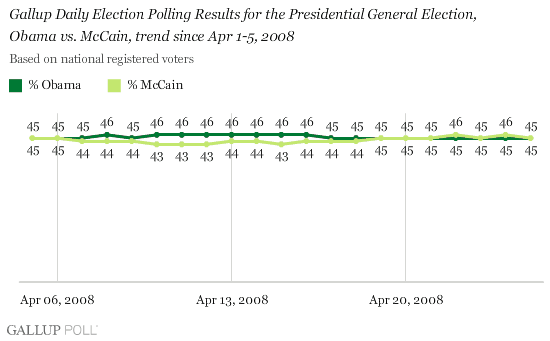 Since Gallup started tracking general election preferences in March after McCain clinched the Republican nomination, the two Democratic candidates have run about the same against him. Now, although Clinton's relative performance against McCain is not much better than Obama's, there appears to be at least a slight separation between the two. -- Jeff Jones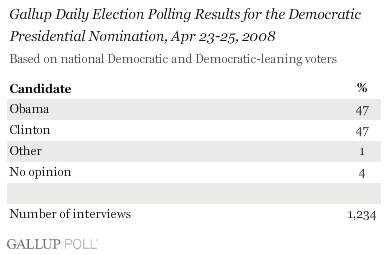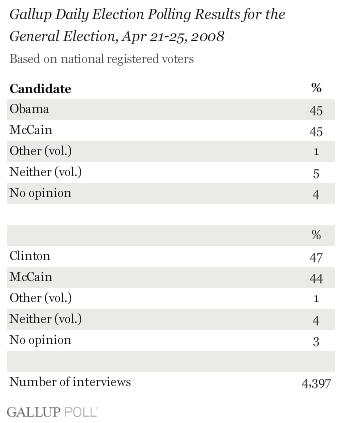 Register to get Gallup Poll Daily tracking reports delivered to you as soon as they are published!
Survey Methods
For the Gallup Poll Daily tracking survey, Gallup is interviewing no fewer than 1,000 U.S. adults nationwide each day during 2008.
The Democratic nomination results are based on combined data from April 23-25, 2008. For results based on this sample of 1,234 Democratic and Democratic-leaning voters, the maximum margin of sampling error is ±3 percentage points.
The general election results are based on combined data from April 21-25, 2008. For results based on this sample of 4,397 registered voters, the maximum margin of sampling error is ±2 percentage points.
In addition to sampling error, question wording and practical difficulties in conducting surveys can introduce error or bias into the findings of public opinion polls.
To provide feedback or suggestions about how to improve Gallup.com, please e-mail feedback@gallup.com.