PRINCETON, NJ -- National Democratic voters are essentially divided in their presidential nomination preferences between Hillary Clinton (47%) and Barack Obama (46%), according to April 27-29 Gallup Poll Daily tracking results.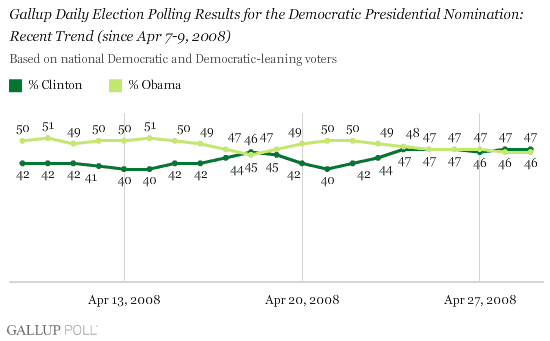 For the last six days, the Democratic contenders have been separated by no more than one percentage point. Obama held statistically significant leads for much of April, but since Clinton's victory in the Pennsylvania primary, the candidates have been running about even. (To view the complete trend since Jan. 3, 2008, click here.)
Tuesday, Obama attempted to put the Rev. Jeremiah Wright controversy behind him by denouncing his former pastor's recent comments in the media. Tuesday night's interviews show no immediate impact of Obama's remarks on voter preferences. With the Indiana and North Carolina primaries looming next Tuesday, the candidates also find themselves in a rare policy disagreement over a proposal to suspend the federal gasoline tax for the summer months, with Clinton in favor of doing so and Obama opposed.
Both Democratic candidates are locked in tight battles with Republican John McCain in the latest general election trial heats, with the Obama-McCain matchup producing a 2-point McCain advantage (46% to 44%) and the Clinton-McCain matchup showing a 1-point Clinton advantage (45% to 44%) among registered voters. There has been very minor movement in recent days in these trial heats, with Clinton's edge over McCain down to one point now from a 3-point lead, and McCain having a slight edge over Obama when they were previously tied. -- Jeff Jones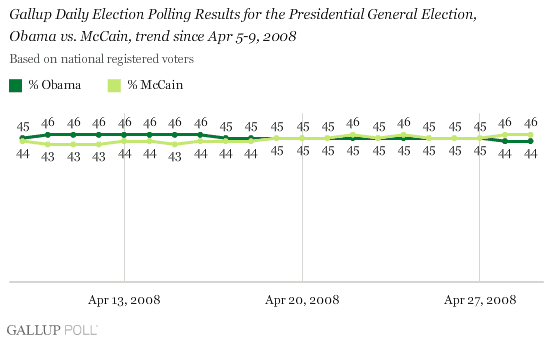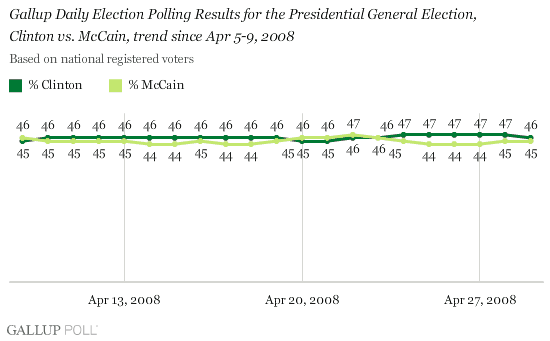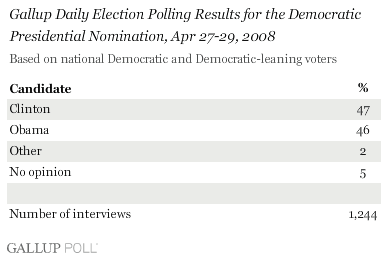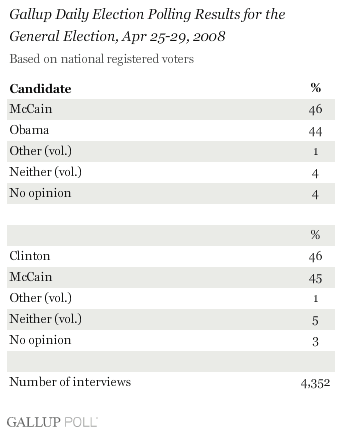 Register to get Gallup Poll Daily tracking reports delivered to you as soon as they are published!
Survey Methods
For the Gallup Poll Daily tracking survey, Gallup is interviewing no fewer than 1,000 U.S. adults nationwide each day during 2008.
The Democratic nomination results are based on combined data from April 27-29, 2008. For results based on this sample of 1,244 Democratic and Democratic-leaning voters, the maximum margin of sampling error is ±3 percentage points.
The general election results are based on combined data from April 25-29, 2008. For results based on this sample of 4,352 registered voters, the maximum margin of sampling error is ±2 percentage points.
In addition to sampling error, question wording and practical difficulties in conducting surveys can introduce error or bias into the findings of public opinion polls.
To provide feedback or suggestions about how to improve Gallup.com, please e-mail feedback@gallup.com.