PRINCETON, NJ -- Barack Obama has a five percentage point edge over Hillary Clinton for the nomination among national Democrats, 50% to 45%, in Gallup Poll Daily tracking from May 2-4. This is not a statistically significant lead, but a continuation of the close race seen for nearly two weeks.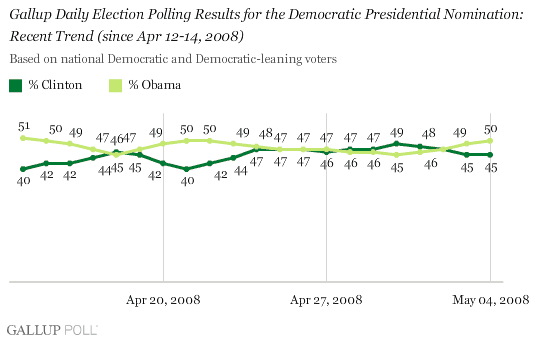 Although there have been variations in the gap between Clinton and Obama in recent weeks (for example, Clinton led Obama by four points at one time last week), the two have been statistically tied in national Democratic preferences continuously since Gallup's April 21-23 interviewing -- spanning 12 Gallup Poll Daily tracking reports. This is the longest stretch the two have been tied since tracking began in January -- beating an 11-day streak seen at the start of March. (To view the complete trend since Jan. 3, 2008, click here.)
Obama won 2,264 votes in Guam's Democratic caucuses on Saturday, May 3, to Clinton's 2,257 votes. It is unclear from Gallup's Sunday tracking results whether Obama's razor-thin 7-vote victory there boosted his candidacy among Democrats nationally. The upcoming Democratic primaries in North Carolina and Indiana on Tuesday are poised to be much more important events in shaping national Democratic perceptions of whether Clinton or Obama should lead the party's ticket for president this fall.
John McCain continues to hold a slight, but significant, lead over Obama among national registered voters for the general election, as he has for the past several days. Gallup's latest five-day rolling average of national registered voters, from April 30-May 4, shows McCain leading Obama by four percentage points, 47% to 43% (He has led Obama by as many as six points in recent days.).
At the same time, Clinton ties McCain in national voter preferences for the fall; each is favored by 46%. -- Lydia Saad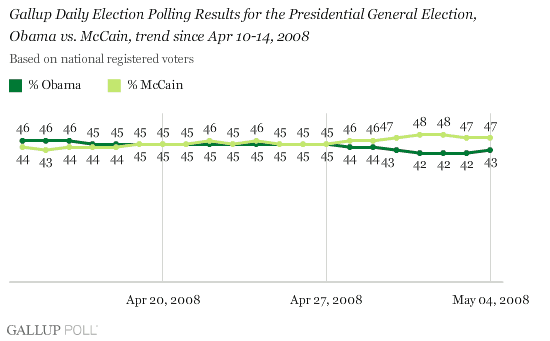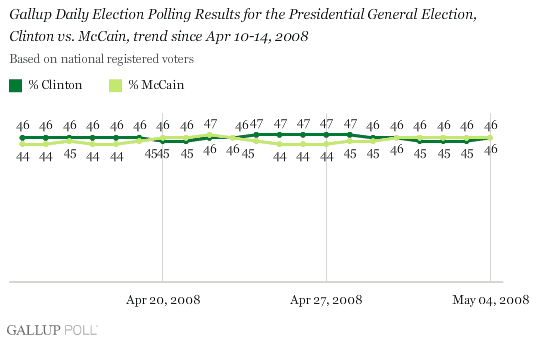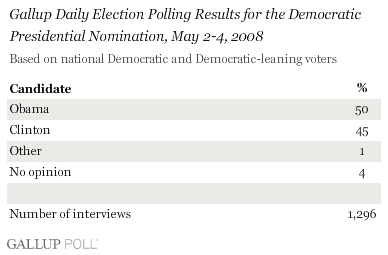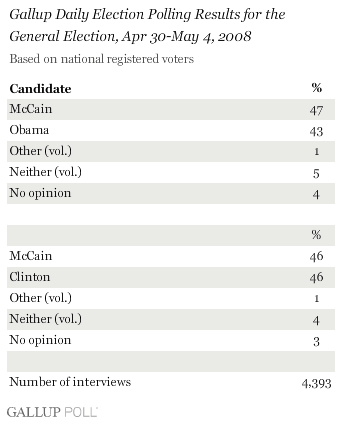 Register to get Gallup Poll Daily tracking reports delivered to you as soon as they are published!
Survey Methods
For the Gallup Poll Daily tracking survey, Gallup is interviewing no fewer than 1,000 U.S. adults nationwide each day during 2008.
The Democratic nomination results are based on combined data from May 2-4, 2008. For results based on this sample of 1,296 Democratic and Democratic-leaning voters, the maximum margin of sampling error is ±3 percentage points.
The general election results are based on combined data from April 30-May 4, 2008. For results based on this sample of 4,393 registered voters, the maximum margin of sampling error is ±2 percentage points.
In addition to sampling error, question wording and practical difficulties in conducting surveys can introduce error or bias into the findings of public opinion polls.
To provide feedback or suggestions about how to improve Gallup.com, please e-mail feedback@gallup.com.