PRINCETON, NJ -- Gallup Poll Daily tracking from May 2-6, finds both Barack Obama and Hillary Clinton going toe-to-toe with Republican John McCain in separate trial heats for the fall election. In both cases, the Democratic candidate receives 46% of the support of national registered voters to McCain's 45%.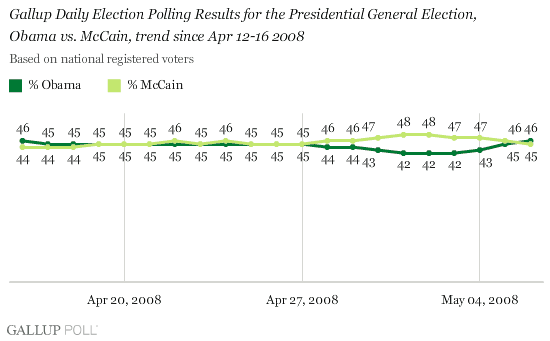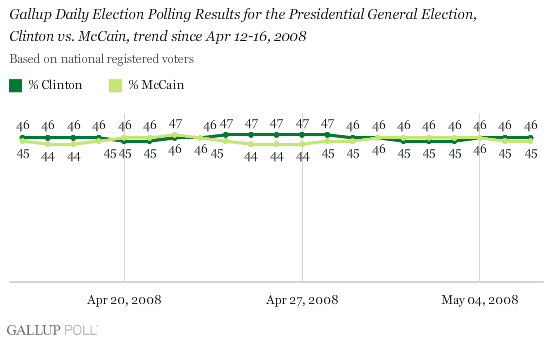 This is the second straight day that Obama has fared just as well as Clinton in separate trial heats between the Democrats and McCain for the general election. For several days prior to that, Obama had trailed McCain by a few percentage points while Clinton had run about even with him, giving some credence to Clinton's claim that she would be the stronger Democratic nominee.
The latest results include interviewing on Tuesday as the returns from the North Carolina and Indiana Democratic primaries were coming in. The night ended with Obama winning big in North Carolina and Clinton squeaking out a 2-point victory in Indiana.
According to Gallup Poll Daily tracking conducted May 4-6, national Democratic voters continue to be split right down the middle in their nomination preferences. Today's update finds 47% favoring Obama and 46% supporting Clinton. (To view the complete trend since Jan. 3, 2008, click here.)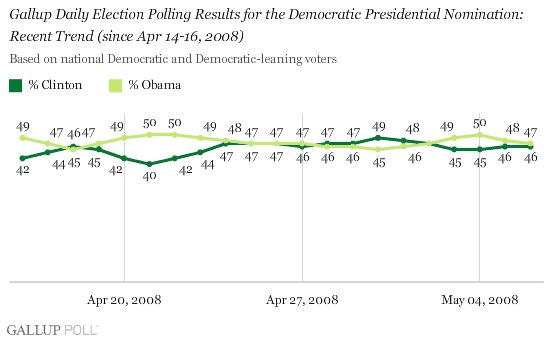 Voters' support for Clinton versus Obama over the next few days of Gallup Poll Daily tracking will help determine whether national Democrats accept the May 6 primary results as a split decision, or whether they perceive Clinton's failure to win both elections as the beginning of the end for her campaign. -- Lydia Saad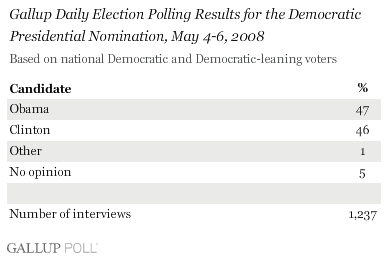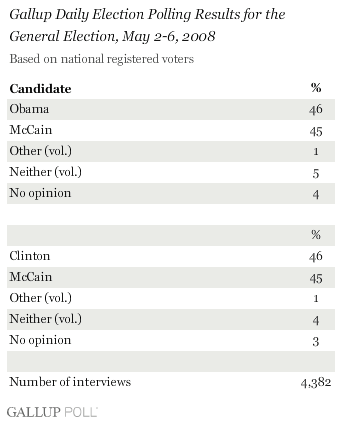 Register to get Gallup Poll Daily tracking reports delivered to you as soon as they are published!
Survey Methods
For the Gallup Poll Daily tracking survey, Gallup is interviewing no fewer than 1,000 U.S. adults nationwide each day during 2008.
The Democratic nomination results are based on combined data from May 4-6, 2008. For results based on this sample of 1,237 Democratic and Democratic-leaning voters, the maximum margin of sampling error is ±3 percentage points.
The general election results are based on combined data from May 2-6, 2008. For results based on this sample of 4,382 registered voters, the maximum margin of sampling error is ±2 percentage points.
In addition to sampling error, question wording and practical difficulties in conducting surveys can introduce error or bias into the findings of public opinion polls.
To provide feedback or suggestions about how to improve Gallup.com, please e-mail feedback@gallup.com.