PRINCETON, NJ -- The latest three-day rolling average for Gallup Poll Daily tracking finds Democratic voters nationwide evenly divided in their preference between Barack Obama (47%) and Hillary Clinton (46%) for the presidential nomination.
The May 5-7 update, which includes the first night of interviewing following the Indiana and North Carolina primaries, shows the candidates once again locked in a statistical tie. Neither candidate has held a significant lead for the last 15 days of Gallup tracking. However, Obama did well in interviews conducted on Wednesday night, suggesting that as the full impact of Tuesday's results and the media coverage of the status of the nomination campaign sinks in with voters, he may move back into the lead. (To view the complete trend since Jan. 3, 2008, click here.)
Most political observers agree that Clinton's chances of getting the nomination were seriously damaged with her narrow win in Indiana and Obama's decisive North Carolina victory, which expanded his lead in pledged delegates. Just six contests remain and the largest of these only have about 60 delegates at stake.
Both Clinton and Obama are essentially tied with John McCain in separate trial heat matchups of the November election. In the Obama-McCain contest, 46% of registered voters say they would vote for Obama if the election were held today and 45% say McCain. The Republican gets the same 45% support against Clinton, while she is the choice of 47% of registered voters. -- Jeff Jones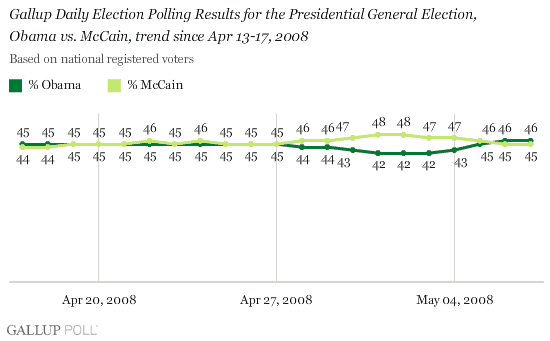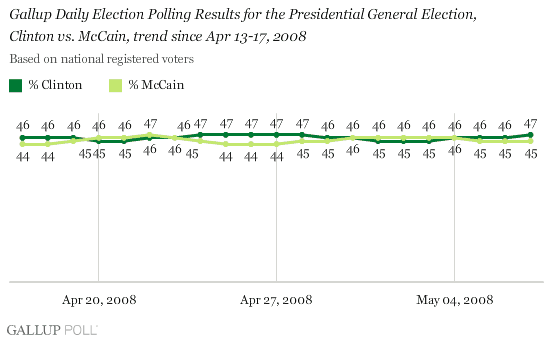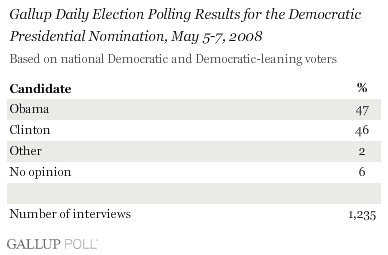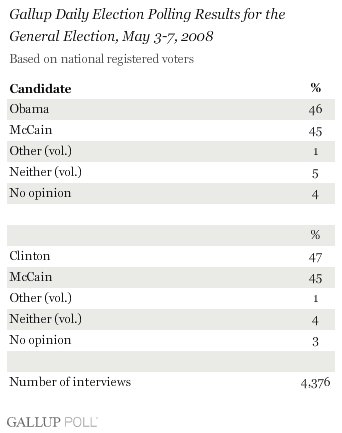 Register to get Gallup Poll Daily tracking reports delivered to you as soon as they are published!
Survey Methods
For the Gallup Poll Daily tracking survey, Gallup is interviewing no fewer than 1,000 U.S. adults nationwide each day during 2008.
The Democratic nomination results are based on combined data from May 5-7, 2008. For results based on this sample of 1,235 Democratic and Democratic-leaning voters, the maximum margin of sampling error is ±3 percentage points.
The general election results are based on combined data from May 3-7, 2008. For results based on this sample of 4,376 registered voters, the maximum margin of sampling error is ±2 percentage points.
In addition to sampling error, question wording and practical difficulties in conducting surveys can introduce error or bias into the findings of public opinion polls.
To provide feedback or suggestions about how to improve Gallup.com, please e-mail feedback@gallup.com.