PRINCETON, NJ -- For the first time in nearly three weeks, the statistical tie between Barack Obama and Hillary Clinton in Gallup Poll Daily tracking of national Democratic preferences has been broken, with Obama now ahead by seven percentage points, 50% to 43%.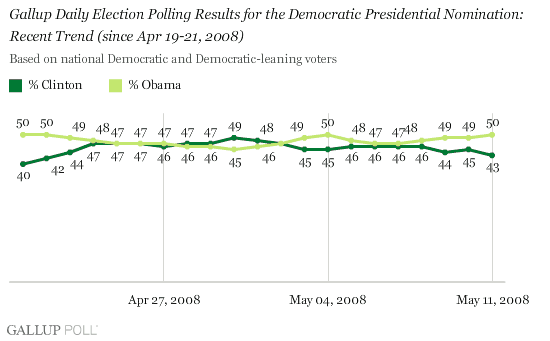 This is based on national interviews with Democratic voters from May 9-11. Importantly, Obama has led Clinton in each individual day of polling included in today's three-day rolling average, as well as the two days prior to that. Such stability was absent from the race for the past several weeks when Clinton and Obama often traded nightly leads in Gallup Poll Daily tracking and, as a result, neither candidate could achieve a significant leg up over the other in national preferences. (To view the complete trend since Jan. 3, 2008, click here.)
Although Obama did not achieve an immediate bounce in national Democratic support after last week's primary elections in Indiana and North Carolina, it could be that the subsequent political punditry, proclaiming the Clinton campaign is effectively over, is affecting voters.
With Clinton continuing to campaign hard, concerns about what the protracted Clinton-Obama battle could do to the party's chances of beating probable Republican presidential nominee, John McCain, in the fall, continue to be raised. However, according to Gallup Poll Daily tracking from May 7-11, both Democratic candidates are now beating McCain among national registered voters in Gallup Poll Daily trial heats for the fall election.
Obama leads McCain by four points, 47% to 43%. Clinton leads McCain by five points, 49% to 44%. Both leads represent the candidates' highest margins over McCain, to date, since Gallup began tracking the general election ballots in early March. -- Lydia Saad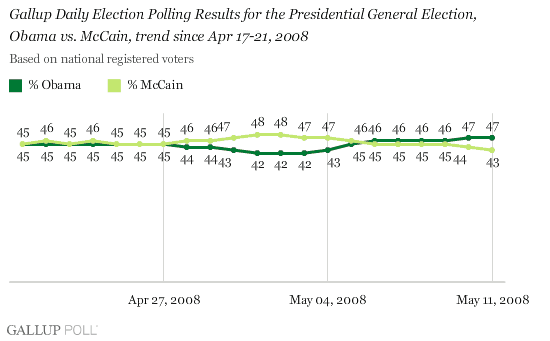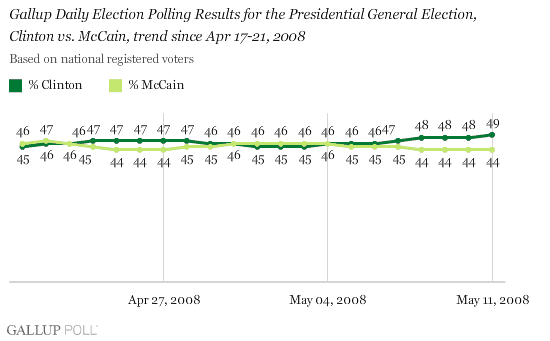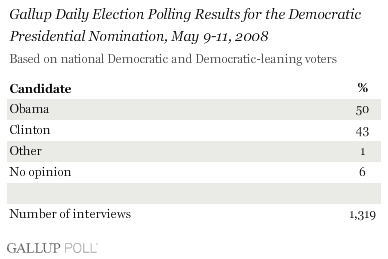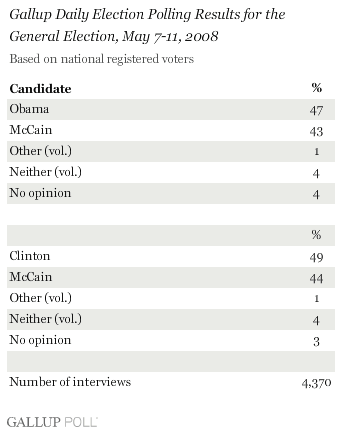 Register to get Gallup Poll Daily tracking reports delivered to you as soon as they are published!
Survey Methods
For the Gallup Poll Daily tracking survey, Gallup is interviewing no fewer than 1,000 U.S. adults nationwide each day during 2008.
The Democratic nomination results are based on combined data from May 9-11, 2008. For results based on this sample of 1,319 Democratic and Democratic-leaning voters, the maximum margin of sampling error is ±3 percentage points.
The general election results are based on combined data from May 7-11, 2008. For results based on this sample of 4,370 registered voters, the maximum margin of sampling error is ±2 percentage points.
In addition to sampling error, question wording and practical difficulties in conducting surveys can introduce error or bias into the findings of public opinion polls.
To provide feedback or suggestions about how to improve Gallup.com, please e-mail feedback@gallup.com.