PRINCETON, NJ -- Gallup Poll Daily tracking from May 10-12 finds Barack Obama ahead of Hillary Clinton, 50% to 44%, in national Democratic voters' presidential nomination preferences.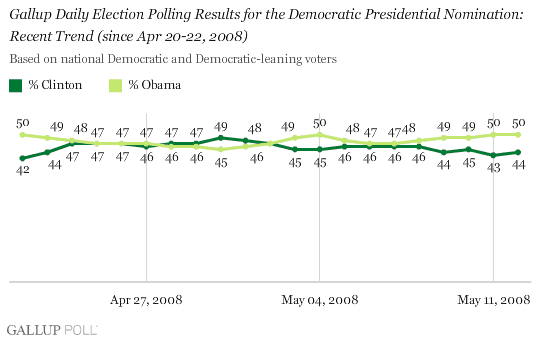 Obama has now held a statistically significant lead over Clinton in each of the last two days, after a nearly three-week period when neither candidate held an advantage beyond the poll's margin of error. Yet Obama's lead is far from commanding, given the high probability that he will emerge as the nominee. (To view the complete trend since Jan. 3, 2008, click here.)
Today voters in West Virginia cast their ballots. Clinton is expected to win the contest easily, but with only 28 delegates at stake even a big victory will not allow her to make much of a dent in Obama's lead in pledged convention delegates.
The latest general election trial heats favor the Democrats against Republican John McCain. Among registered voters nationwide, 47% say they would vote for Obama and 44% McCain. Clinton does slightly better, leading McCain by a significant 49% to 44% margin.
Clinton has justified her continuing campaign in part on the argument that she would have a better chance than Obama does of defeating McCain in the fall. Although early trial heats such as these are not highly predictive of the November outcome, since the Pennsylvania primaries Clinton has tended to run slightly better versus McCain than Obama has in Gallup Poll Daily tracking, but not enough to suggest Democrats would be much more strongly positioned with her as their presidential candidate. -- Jeff Jones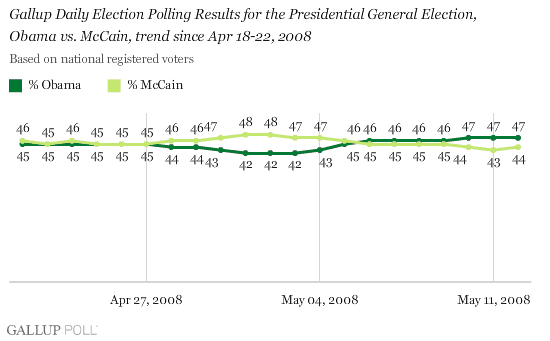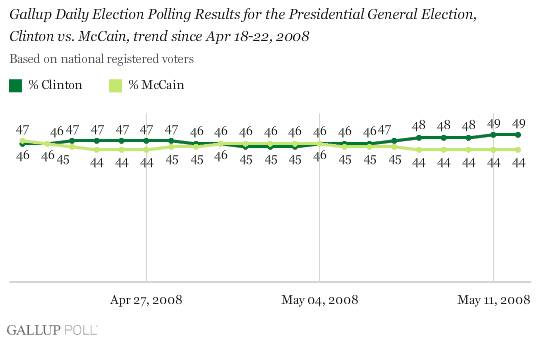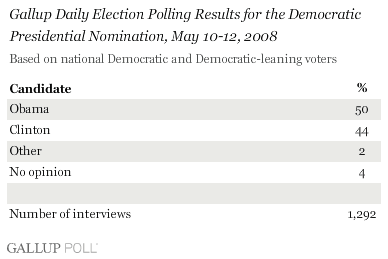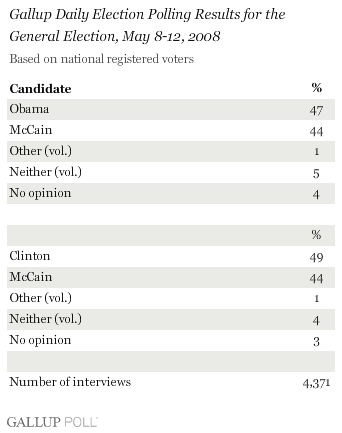 Register to get Gallup Poll Daily tracking reports delivered to you as soon as they are published!
Survey Methods
For the Gallup Poll Daily tracking survey, Gallup is interviewing no fewer than 1,000 U.S. adults nationwide each day during 2008.
The Democratic nomination results are based on combined data from May 10-12, 2008. For results based on this sample of 1,292 Democratic and Democratic-leaning voters, the maximum margin of sampling error is ±3 percentage points.
The general election results are based on combined data from May 8-12, 2008. For results based on this sample of 4,371 registered voters, the maximum margin of sampling error is ±2 percentage points.
In addition to sampling error, question wording and practical difficulties in conducting surveys can introduce error or bias into the findings of public opinion polls.
To provide feedback or suggestions about how to improve Gallup.com, please e-mail feedback@gallup.com.