PRINCETON, NJ -- Gallup Poll Daily tracking of national Democratic voters from May 15-17 finds Barack Obama with an 11 percentage point lead over Hillary Clinton, 52% to 41%.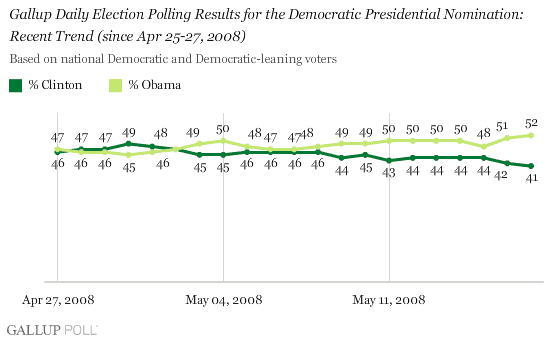 Obama's current advantage matches the high-water mark for national Democratic support for his candidacy, previously attained in Gallup Poll Daily tracking from April 12-14. (To view the complete trend since Jan. 3, 2008, click here.)
Immediately after that polling period, Obama's campaign entered a tumultuous phase fraught with fallout from his remarks concerning "bitter" voters in Pennsylvania, negative news coverage of his performance in the April 16 Philadelphia Democratic debate, a loss to Clinton in the April 22 Pennsylvania primary, and renewed controversy surrounding his former pastor, the Rev. Jeremiah Wright.
It would seem that all of that is now behind the Illinois senator as the current media focus is centered on the mathematical certainty that he has cinched the nomination, as well as on the war of words between Obama and John McCain over aspects of the Bush administration's foreign policy.
At the same time, Obama is failing to beat presumptive Republican nominee John McCain in Gallup Poll Daily trial heats for the fall election among national registered voters. In polling from May 13-17, support for Obama falls one point shy of McCain's, 45% to 46%. Clinton fares only slightly better, running two points ahead of McCain, 47% to 45%. -- Lydia Saad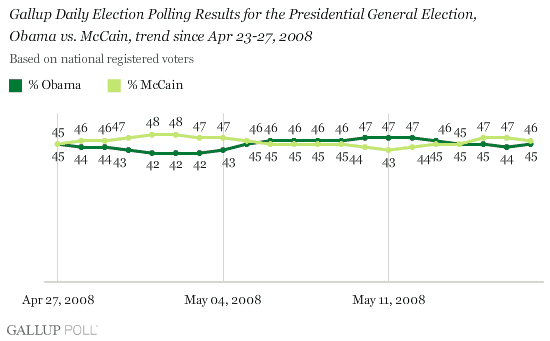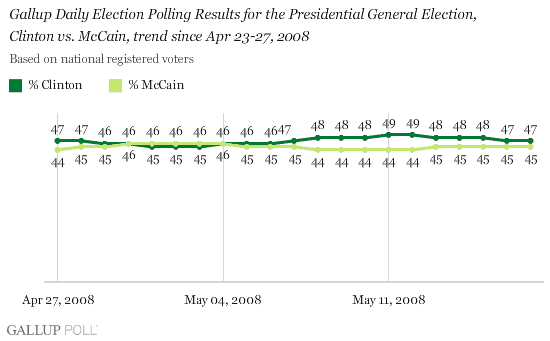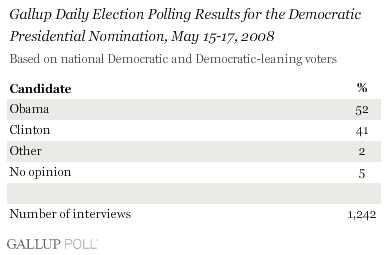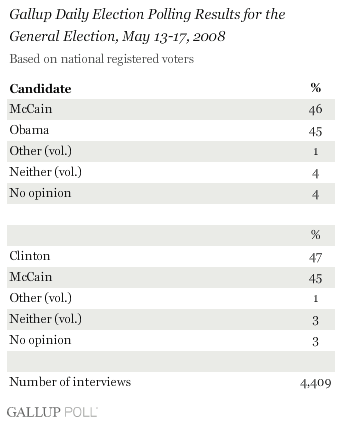 Survey Methods
For the Gallup Poll Daily tracking survey, Gallup is interviewing no fewer than 1,000 U.S. adults nationwide each day during 2008.
The Democratic nomination results are based on combined data from May 15-17, 2008. For results based on this sample of 1,242 Democratic and Democratic-leaning voters, the maximum margin of sampling error is ±3 percentage points.
The general election results are based on combined data from May 13-17, 2008. For results based on this sample of 4,409 registered voters, the maximum margin of sampling error is ±2 percentage points.
In addition to sampling error, question wording and practical difficulties in conducting surveys can introduce error or bias into the findings of public opinion polls.
To provide feedback or suggestions about how to improve Gallup.com, please e-mail feedback@gallup.com.