PRINCETON, NJ -- Gallup Poll Daily tracking from May 20-24 finds Hillary Clinton maintaining a significant 49% to 44% lead over John McCain when registered voters are asked about their preferences for the fall general election, while McCain has a slight 47% to 45% advantage over Barack Obama.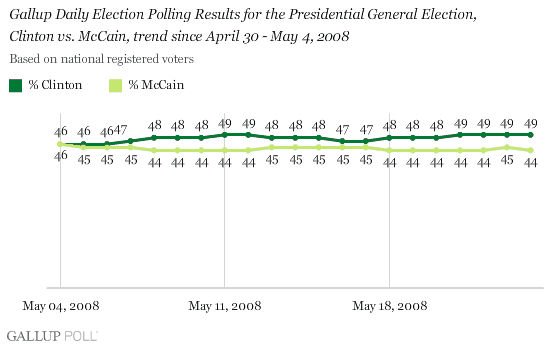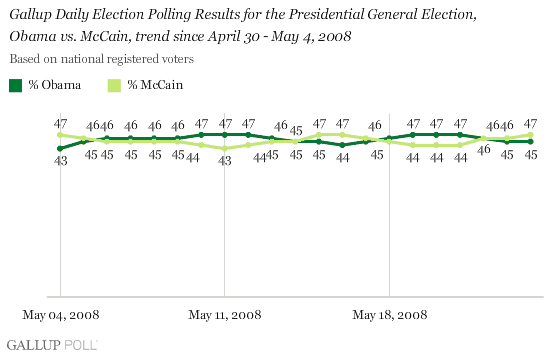 Despite the fact that Obama is considered to be the highly probable Democratic nominee, Gallup Poll Daily tracking continues to show that, at the moment, Clinton is performing better against presumptive Republican nominee John McCain than is Obama. Clinton's five percentage point lead over McCain is statistically significant, and considerably stronger than Obama's 2-point loss to McCain among registered voters nationwide.
At the same time that Clinton is enjoying stronger support than Obama against McCain in terms of hypothetical general election matchups, she continues to lose to Obama among national Democrats. The most recent May 22-24 three-day rolling average has Obama at 50% and Clinton at 45%, a slightly smaller margin than in previous days. (To view the complete trend since Jan. 3, 2008, click here.)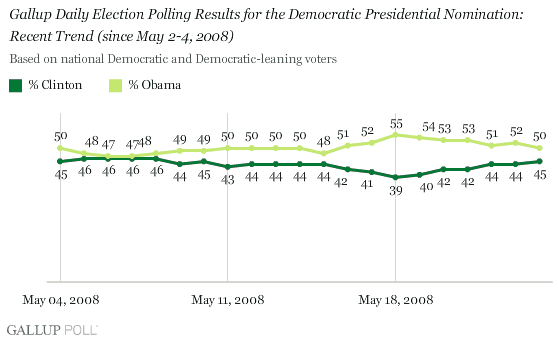 There are only three primaries left for Democrats this year -- Puerto Rico on June 1, and South Dakota and Montana on June 3. At that point, all eyes will turn to challenger Clinton as she and her campaign team contemplate their next move as the Democratic Party moves towards their late August convention in Denver. -- Frank Newport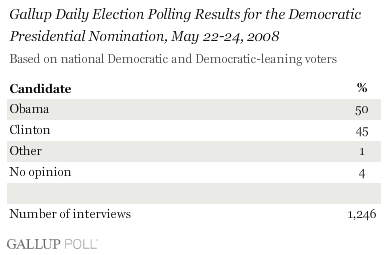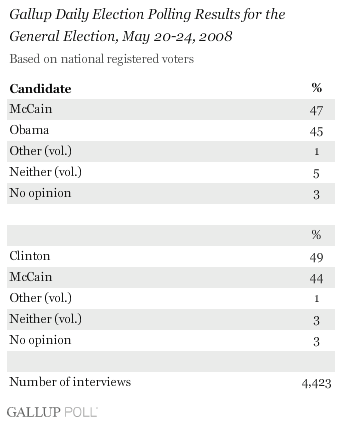 Survey Methods
For the Gallup Poll Daily tracking survey, Gallup is interviewing no fewer than 1,000 U.S. adults nationwide each day during 2008.
The Democratic nomination results are based on combined data from May 22-24, 2008. For results based on this sample of 1,246 Democratic and Democratic-leaning voters, the maximum margin of sampling error is ±3 percentage points.
The general election results are based on combined data from May 20-24, 2008. For results based on this sample of 4,423 registered voters, the maximum margin of sampling error is ±2 percentage points.
Interviews are conducted with respondents on land-line telephones (for respondents with a land-line telephone) and cellular phones (for respondents who are cell-phone only).
In addition to sampling error, question wording and practical difficulties in conducting surveys can introduce error or bias into the findings of public opinion polls.
To provide feedback or suggestions about how to improve Gallup.com, please e-mail feedback@gallup.com.