PRINCETON, NJ -- Both Barack Obama and Hillary Clinton are running about neck and neck with John McCain in Gallup Poll Daily tracking trial heats for the presidential election. Clinton holds a slight edge over McCain, 47% to 45%, while Obama ties McCain at 46%.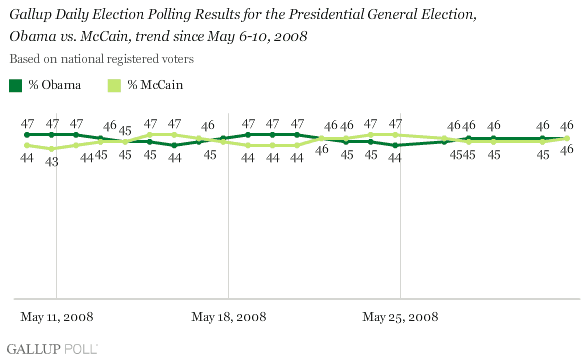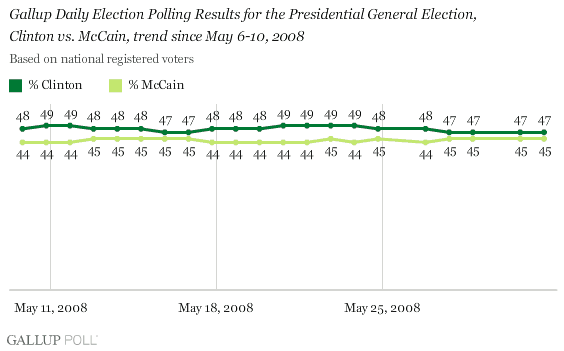 Clinton's two percentage point lead over McCain in Gallup's May 27-June 1 interviewing is not statistically significant. However, when considering that she has polled two points better than the presumptive Republican nominee in each of the last four Gallup Poll Daily tracking reports, she does appear to have a real, albeit, slight advantage against McCain. Furthermore, Clinton has led McCain by at least two points in every Gallup tracking release since May 8, and at times by as much as five points.
By contrast, Obama has been essentially tied with McCain for over a week, and has not led McCain by more than one percentage point in any Gallup Poll Daily tracking release since May 22. More generally, the current differences between how the two Democrats stack up against McCain, though slight, reflect a persistent pattern seen throughout May.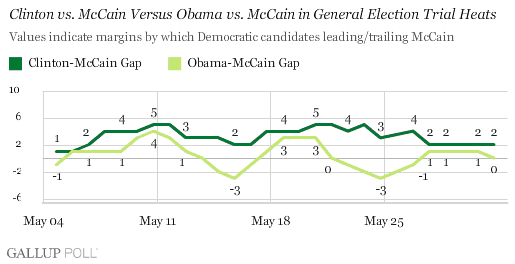 While Obama and Clinton are now at rough parity among registered voters for the fall election, Obama holds a significant lead over Clinton in national Democratic preferences for the nomination. In Gallup Poll Daily tracking from May 29-June 1, Obama leads 51% to 41%. This is his fourth consecutive day with a 10-point advantage for the nomination. (To view the complete trend since Jan. 3, 2008, click here.)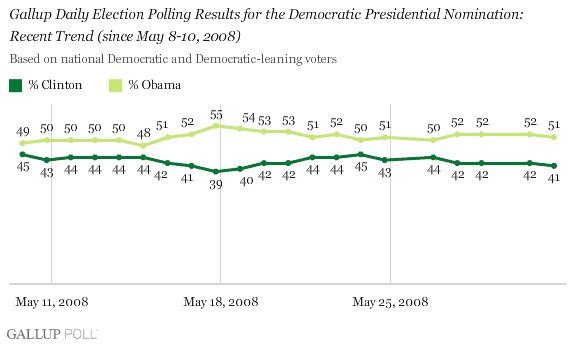 The final primary elections of the year will take place June 3 in Montana and South Dakota, with most observers assuming Obama will be the presumptive nominee when the voting is over.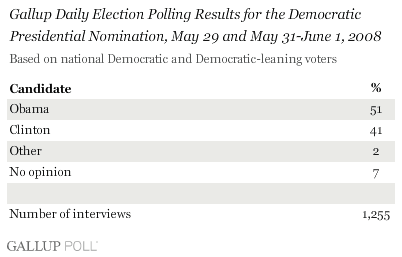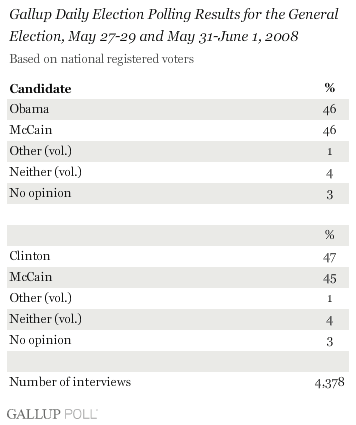 Survey Methods
For the Gallup Poll Daily tracking survey, Gallup is interviewing no fewer than 1,000 U.S. adults nationwide each day during 2008.
The Democratic nomination results are based on combined data from May 29, May 31 and June 1, 2008. For results based on this sample of 1,255 Democratic and Democratic-leaning voters, the maximum margin of sampling error is ±3 percentage points.
The general election results are based on combined data from May 27-29, May 31 and June 1, 2008. For results based on this sample of 4,378 registered voters, the maximum margin of sampling error is ±2 percentage points.
Interviews are conducted with respondents on land-line telephones (for respondents with a land-line telephone) and cellular phones (for respondents who are cell-phone only).
In addition to sampling error, question wording and practical difficulties in conducting surveys can introduce error or bias into the findings of public opinion polls.
To provide feedback or suggestions about how to improve Gallup.com, please e-mail feedback@gallup.com.