PRINCETON, NJ -- A slight majority of Democrats say that Barack Obama should choose Hillary Clinton as his Democratic running mate for the fall election.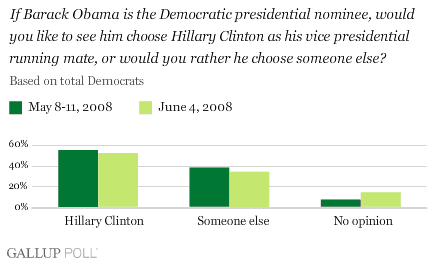 The specific question included on the Gallup Poll Daily tracking for Wednesday asked Democrats and Democratic-leaning independents directly if they would "like to see Barack Obama choose Hillary Clinton as his vice presidential running mate", or if they would rather he choose someone else.
Slightly over half of Democrats say they would like Obama to choose Clinton, while 34% say they think he should choose someone else, and about 14% have no opinion or are undecided. These responses are statistically unchanged from when this question was asked of Democrats several weeks ago.
A separate analysis of data from Wednesday night shows that Obama gets a slight bounce in his standing against John McCain when voters are presented with the concept of a Democratic Obama-Clinton ticket for the fall election.
In Wednesday night's tracking, voters were first presented with the same Obama versus McCain ballot that Gallup has been tracking since March. The trend line on this measure shows no change. (To view the complete trend since March 7, 2008, click here.)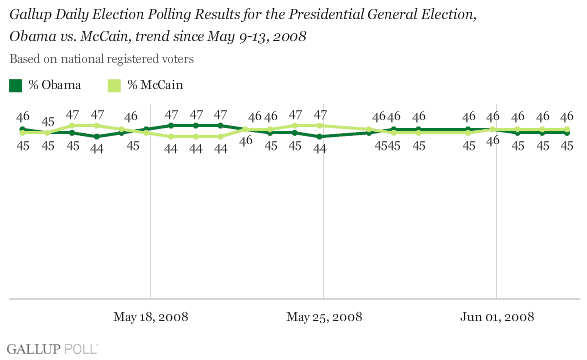 The five-day rolling average has McCain at 46% and Obama at 45%, exactly the same now for three nights running. From a more microscopic perspective, Wednesday night's interviewing -- the first conducted entirely after it became official on Tuesday that Obama had enough delegates to become the Democratic nominee -- also was little changed from Tuesday night's interviewing, with the two candidates tied at 45% each. This suggests no immediate bounce for Obama from the widespread news coverage of his becoming the presumptive Democratic nominee.
A follow-up question was inserted into the tracking on Wednesday night, asking voters whom they would support if the Democratic ticket included Barack Obama as president and Hillary Clinton as vice president, with John McCain as the Republican nominee (with no Republican vice presidential candidate specified). The Wednesday night interviewing using this question wording showed the Obama-Clinton ticket with a slight lead over McCain, 50% to 45%.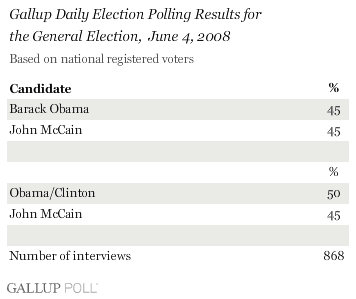 In short, including Clinton's name as the Democratic vice presidential nominee shifted a small number of voters into the Democratic camp as contrasted to the straight Obama versus McCain ballot, with McCain's support basically unchanged. -- Frank Newport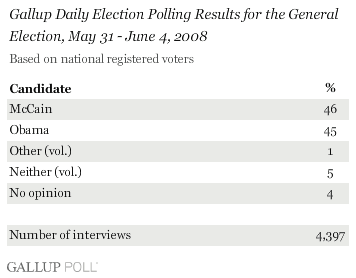 Survey Methods
For the Gallup Poll Daily tracking survey, Gallup is interviewing no fewer than 1,000 U.S. adults nationwide each day during 2008.
The general election results are based on combined data from May 31-June 4, 2008. For results based on this sample of 4,397 registered voters, the maximum margin of sampling error is ±2 percentage points.
The Democratic vice president question results are based on data from June 4, 2008. For results based on this sample of 482 Democrats and Democratic-leaning independents, the maximum margin of sampling error is ±5 percentage points.
The June 4, 2008 registered voter results are based on a sample of 868 registered voters. For results based on this sample, the maximum margin of sample error is ±3 percentage points.
Interviews are conducted with respondents on land-line telephones (for respondents with a land-line telephone) and cellular phones (for respondents who are cell-phone only).
In addition to sampling error, question wording and practical difficulties in conducting surveys can introduce error or bias into the findings of public opinion polls.
To provide feedback or suggestions about how to improve Gallup.com, please e-mail feedback@gallup.com.