PRINCETON, NJ -- Democratic candidate Barack Obama continues to maintain a slim margin over Republican John McCain, 48% to 42%, according to Gallup Poll Daily tracking conducted July 2-3 and July 5.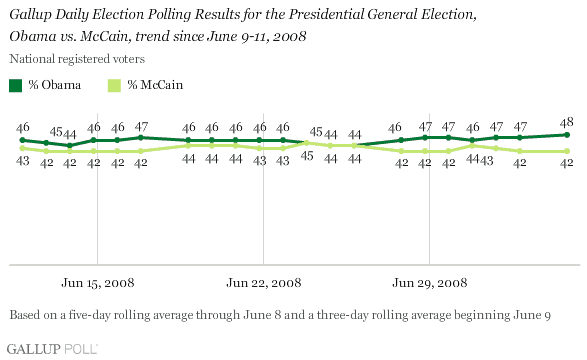 Today's three-day rolling average is based on interviewing conducted in the two days before the July 4 holiday, July 2-3, and Saturday, July 5 (no interviewing was conducted on July 4). About 5% of voters say they will not vote for either major party candidate while an additional 6% are undecided.
News organizations over the last several days have given extensive play to the precise wording of various Obama statements concerning what he would do regarding withdrawal of troops from Iraq were he to be elected president. So far, there is little sign in the Gallup Poll Daily tracking that this has made a difference in the preferences of registered voters. Of course, it is to be expected that voters' attention is turned elsewhere over a holiday weekend, so a major shift in the standing of the two candidates would be an unusual occurrence. Until the vice presidential nominees are announced and/or the Democratic convention begins in late August, the twin efforts of the campaigns to influence voter perceptions of the race and of the news media to find something new and compelling to say about the race will be competing for what could be sparse voter attention. (To view the complete trend since March 7, click here.) -- Frank Newport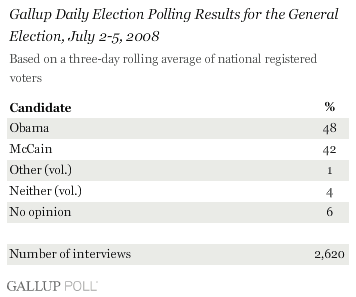 Survey Methods
For the Gallup Poll Daily tracking survey, Gallup is interviewing no fewer than 1,000 U.S. adults nationwide each day during 2008.
The general-election results are based on combined data from July 2-3 and July 5, 2008. For results based on this sample of 2,620 registered voters, the maximum margin of sampling error is ±2 percentage points.
Interviews are conducted with respondents on land-line telephones (for respondents with a land-line telephone) and cellular phones (for respondents who are cell-phone only).
In addition to sampling error, question wording and practical difficulties in conducting surveys can introduce error or bias into the findings of public opinion polls.
To provide feedback or suggestions about how to improve Gallup.com, please e-mail
feedback@gallup.com
.