PRINCETON, NJ -- Americans rate price gouging by the oil companies, price gouging by foreign oil producers, and a lack of effective action by Congress as the most important reasons why the price of gasoline is so high -- essentially equating congressional inaction with price gouging.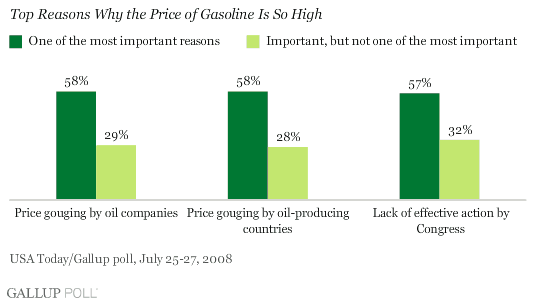 Lots of Blame to Go Around
Last week as Congress adjourned for its August recess, House Republicans began a mini-demonstration on the House floor, protesting the unwillingness of the congressional leadership to vote on various proposed energy issues -- including offshore oil drilling. Recent Gallup polling, conducted before Congress recessed, suggests the Republicans may be on to something politically, with Americans rating a lack of congressional action as one of the most important reasons for today's high gas prices.
However, people obviously feel there is a lot of blame to go around, with 52% pointing to speculation by oil/commodity investors and 51% to a lack of effective action by the Bush administration. Nearly as many -- 48% -- blame American consumers in general for a lack of energy conservation while 46% say increased demand from China, India, and other developing countries deserves a significant part of the blame.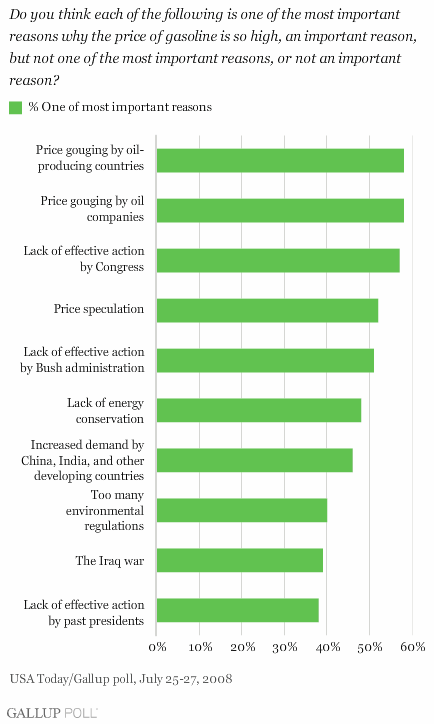 Commentary
Today's extremely high gas prices are causing many Americans financial hardship. Some of the explanations offered for the surge in prices seem to make sense, including an increase in global demand for oil, a lack of energy conservation by American consumers, and even a failure to increase domestic oil supplies. Still, it is hard to argue that global supply and demand alone changed so significantly during the first half of this year as to justify prices at the pump of $4 a gallon.
Given this basic lack of face validity associated with the argument that free-market forces are the most important reason for record gas prices, many Americans are looking to other places in order to place blame. Not surprisingly, the oil companies and the international oil cartel (the Organization of Petroleum Exporting Countries) tend to top the consumers' list. However, it appears that the high gas price situation has persisted for so long that many Americans now believe Congress and the Bush administration also deserve a large part of the blame simply because they haven't acted to ameliorate the gas price situation.
During recent weeks, some in Congress have tried to shift the blame for high gas prices to so-called speculators and an imbalance between the supply of oil-related investments and the demand on the part of hedge funds and others for those investments. While the data suggest that many Americans are willing to allow the speculators to share the blame, at least at this point, it doesn't seem as if Congress has been able to shift the blame away from itself.
Of course, the recent plunge in oil prices is likely to complicate the entire gas price situation. Once again, some might argue that a slowing global economy and some degree of so-called "demand destruction" in the United States has played a part but it is hard to see how these developing trends could produce the recent sharp drop in oil prices. While consumers will welcome any relief of the pressure at the pump, the timing of the current price decline -- coming just about three months before the November elections -- may actually end up increasing consumer concerns about gas price manipulation. In this regard, Americans might reasonably ask what has happened over the past few weeks to explain a plunge in global oil prices. And, how likely are gas prices to reverse course once more -- particularly after the elections and as the need for home heating oil increases?
Whatever the underlying reasons for the surge in oil prices during the first half of 2008 and the plunge in recent weeks, the big danger going forward may be the growing support among Americans for establishing price controls on gasoline. Right now, 62% favor instituting such price controls. Continued extreme gas price volatility that appears largely unrelated to free-market forces can serve only to increase this amazingly high degree of support among American consumers for placing price controls on gasoline -- something the U.S. experience with price controls during the 1970s showed was a very bad idea.
Survey Methods
Results are based on telephone interviews with 1,007 national adults, aged 18 and older, conducted July 25-27, 2008. For results based on the total sample of national adults, one can say with 95% confidence that the maximum margin of sampling error is ±3 percentage points.
Interviews are conducted with respondents on land-line telephones (for respondents with a land-line telephone) and cellular phones (for respondents who are cell-phone only).
In addition to sampling error, question wording and practical difficulties in conducting surveys can introduce error or bias into the findings of public opinion polls.
To provide feedback or suggestions about how to improve Gallup.com, please e-mail feedback@gallup.com.