PRINCETON, NJ -- Barack Obama has been struggling to maintain his Democratic base thus far in August, and according to weekly averages of Gallup Poll Daily tracking, the problem seems to be with conservative Democrats.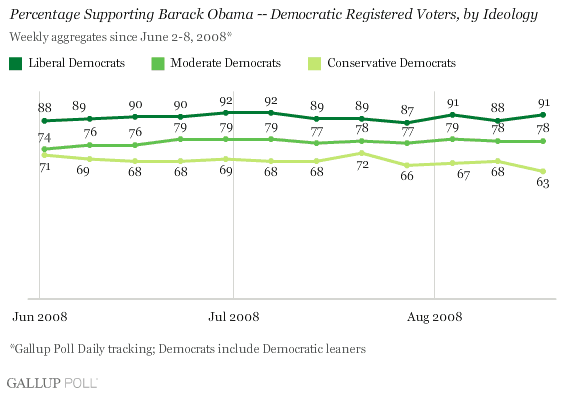 Within the Democratic Party, Obama's losses are primarily evident among the relatively small group that describes its political views as conservative. The 63% of conservative Democrats supporting Obama over McCain in Aug. 18-24 polling is the lowest Obama has earned since he clinched the Democratic nomination in June. At the same time, there have been no similar drops in support for Obama in the preferences of liberal or moderate Democrats.
As a result of this, support for Obama among all Democratic registered voters fell from 81% in early August (Aug. 4-10) to 78% last week (Aug. 18-24). Obama's support from Republicans over this period also dipped from 9% to 7%, while 42% to 43% of independents have consistently supported him.
The 78% of Democrats backing Obama from Aug. 18-24 ties for the lowest seen since early June. The 7% of Republicans for Obama is the lowest to date (since the start of Gallup Poll Daily tracking of the Obama-McCain race in March).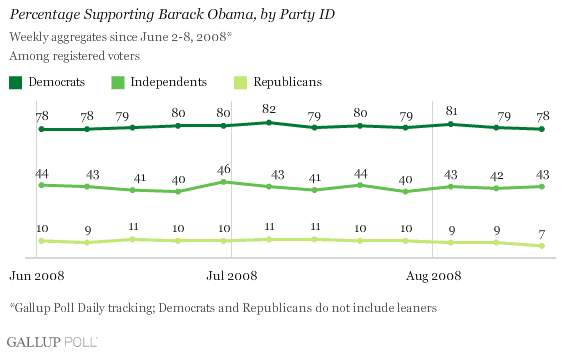 Among Republicans, Obama has mainly seen his support eroding among moderate and liberal Republicans, from 19% to 13% during August. Already at 4% to 6% in July and early August, Obama's support from conservative Republicans could not go much lower.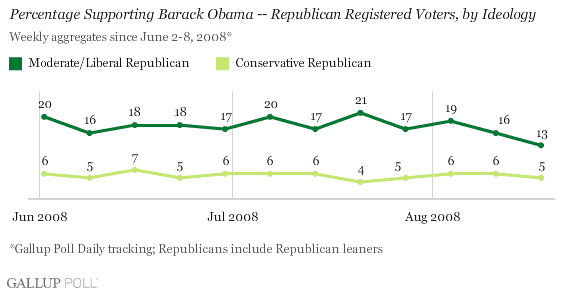 More generally, recent weekly averages of Gallup Poll Daily tracking show the race for president tightening just prior to the Democratic National Convention. Whereas Obama led John McCain 47% to 42% earlier this month, and 45% to 43% from Aug. 11-17, the race from Aug. 18-24 was exactly tied at 45%. The large sample sizes included in each weekly aggregate (more than 6,000 registered voters) mean there is greater reliability that these changes are real than if they were seen on only a day-to-day basis.
(Notably, most of the interviews included in the Aug. 18-24 weekly aggregate took place before Obama's Aug. 23 announcement that Sen. Joe Biden would serve as his vice presidential running mate, so the week's results should not be interpreted as reflecting public reaction to that decision.)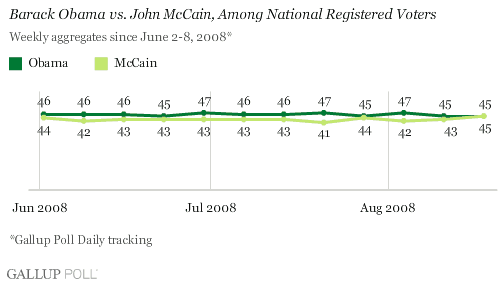 The presidential contest has remained close in subsequent days, and McCain took a slight (though not statistically significant) lead this week in Monday's tracking report, 46% to 44%.
Lady Trouble
Obama's troubles are also evident among married women. Between Aug. 4-10 and Aug. 18-24, the percentage of married women backing Obama fell from 46% to 39%, while support from unmarried women fell from 58% to 55%. At the same time, there has been no decrease in the percentage of married or unmarried men supporting Obama.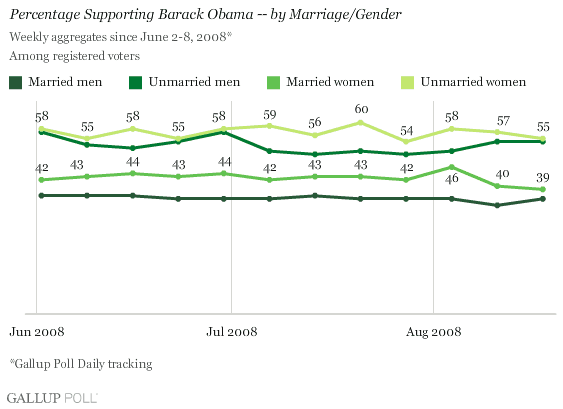 Bottom Line
Obama held the slight upper hand in the race from early June through mid-August. His failure to maintain that last week -- averaging a tie with McCain at 45% -- can be largely explained by some defection from the conservative wing of the Democratic Party, as well as less crossover support from moderate and liberal Republicans.
Given these contradictory partisan trends, and the fact that Gallup finds no clear pattern in the recent weekly presidential preference trends by religion, there does not seem to be a coherent ideological or religious basis to the shift (such as might be explained by the controversy over Obama's views on abortion).
It will be important to see whether Obama's erstwhile supporters -- particularly conservative Democrats -- come back to the fold this week as they watch the Democratic National Convention and take a fresh look at their new nominee for president.
Survey Methods
For the Gallup Poll Daily tracking survey, Gallup interviews no fewer than 1,000 U.S. adults nationwide each day, generally including approximately 880 registered voters. The average weekly results reported here are based on combined data from approximately 6,200 registered voters interviewed each week from Monday through Sunday.
For results based on samples of this size, the maximum margin of sampling error is ±1 percentage point. For results based on subgroups of registered voters, the margins of sampling error are higher.
Interviews are conducted with respondents on land-line telephones (for respondents with a land-line telephone) and cellular phones (for respondents who are cell-phone only).
In addition to sampling error, question wording and practical difficulties in conducting surveys can introduce error or bias into the findings of public opinion polls.
To provide feedback or suggestions about how to improve Gallup.com, please e-mail feedback@gallup.com.