PRINCETON, NJ -- Barack Obama maintains an eight percentage point lead over John McCain when registered voters nationwide are asked whom they would vote for in the presidential election if it were held today, according to the latest Gallup Poll Daily tracking figures.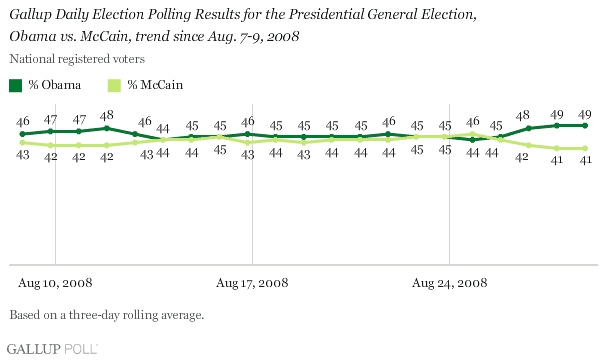 With 49% of the vote, Obama has tied his high for the campaign to date. (To view the complete trend since March 7, 2008, click here.) He has received a boost in the polls coming out of the Democratic Party's convention this week, at which he became the first African-American to be nominated as the presidential candidate of a major political party.
The current results are based on Aug. 27-29 interviewing, which includes two nights of polling during the convention and one post-convention night on Friday. The Friday interviewing was conducted in an unusual political environment -- the first conducted fully after Obama's well-regarded acceptance speech and McCain's surprise announcement of Alaska Gov. Sarah Palin as his vice presidential running mate. Each event in isolation has usually been associated with increased candidate support for the relevant party. On this day -- with strong partisan forces pushing the public in both directions -- Obama still polled better than he had been prior to the convention, but not as well as he was polling on the individual nights of the convention.
Now the focus shifts to the Republican convention in St. Paul, Minn., beginning Monday, and McCain hopes for a bounce similar to what Obama has enjoyed the past few days. -- Jeff Jones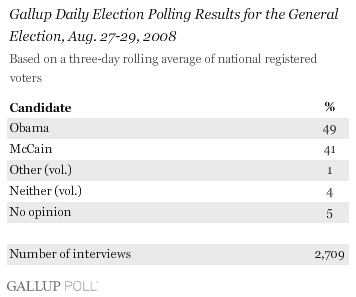 Survey Methods
For the Gallup Poll Daily tracking survey, Gallup is interviewing no fewer than 1,000 U.S. adults nationwide each day during 2008.
The general-election results are based on combined data from Aug.27-29, 2008. For results based on this sample of 2,709 registered voters, the maximum margin of sampling error is ±2 percentage points.
Interviews are conducted with respondents on land-line telephones (for respondents with a land-line telephone) and cellular phones (for respondents who are cell-phone only).
In addition to sampling error, question wording and practical difficulties in conducting surveys can introduce error or bias into the findings of public opinion polls.
To provide feedback or suggestions about how to improve Gallup.com, please e-mail feedback@gallup.com.