PRINCETON, NJ -- Gallup Poll Daily tracking encompassing Sunday, Monday, and Tuesday's interviewing shows Barack Obama retaining a six percentage point, 49% top 43%, lead over John McCain among registered voters.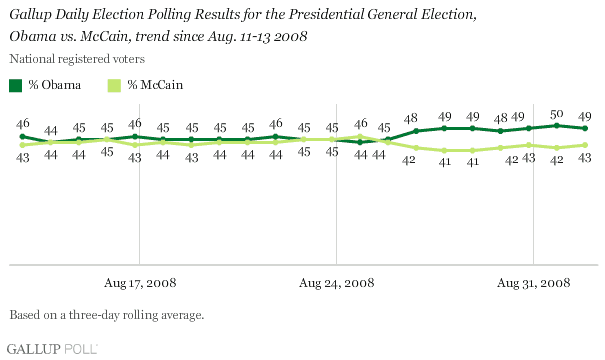 This latest rolling average probably does not reflect much impact of the delayed opening of the Republican National Convention now underway in St. Paul, Minn. There was little convention activity Monday night due to Hurricane Gustav, and interviewing on Tuesday was, to a large degree, completed before the major prime time speeches at the convention were televised, particularly in the Midwest and Eastern portions of the country. A review of last week's tracking during the Democratic convention shows that Obama did not begin to show major gains until the tracking averages reported on Thursday, covering the first three nights of the Denver convention. So it is possible that any potential McCain convention bounce may not be evident for a few days.
More specifically, there appears to be a great deal of anticipation for the prime time debut of the Republican vice presidential nominee, Gov. Sarah Palin, on Wednesday night. It is possible that her speech could receive record ratings as Americans tune in to find out more about the woman who was largely unknown until last week and who has dominated news coverage since her selection last Friday. Then, of course, McCain himself makes his acceptance speech on Thursday night. The potential impact of the Palin and McCain speeches may not be seen in the tracking data until the weekend. (To view the complete trend since March 7, 2008, click here.) -- Frank Newport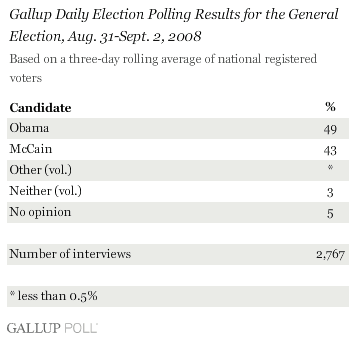 (Click here to see how the race currently breaks down by demographic subgroup.)
Survey Methods
For the Gallup Poll Daily tracking survey, Gallup is interviewing no fewer than 1,000 U.S. adults nationwide each day during 2008.
The general-election results are based on combined data from Aug. 31-Sept. 2, 2008. For results based on this sample of 2,767 registered voters, the maximum margin of sampling error is ±2 percentage points.
Interviews are conducted with respondents on land-line telephones (for respondents with a land-line telephone) and cellular phones (for respondents who are cell-phone only).
In addition to sampling error, question wording and practical difficulties in conducting surveys can introduce error or bias into the findings of public opinion polls.
To provide feedback or suggestions about how to improve Gallup.com, please e-mail feedback@gallup.com.