PRINCETON, NJ -- Barack Obama's advantage over John McCain has been shrinking since the start of the Republican National Convention, and is now down to just two percentage points -- 47% to 45% -- too close to call. This is according to Gallup Poll Daily tracking from Wednesday through Friday, Sept. 3-5.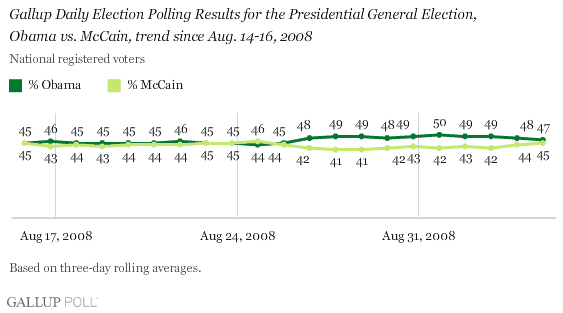 Obama had led McCain by as much as eight percentage points in recent days, both during and immediately after the Democratic National Convention in Denver. Those results reflected a convention bounce for Obama of four percentage points in his support among registered voters (from 45% to 49%). It appears that McCain is now enjoying a rebound bounce coming out of the Republican National Convention in St. Paul that is nullifying some of Obama's gains. (To view the complete trend since March 7, 2008, click here.)
The interviewing for today's report partially reflects public opinion following the highlights of the Republican National Convention on Wednesday and Thursday nights when McCain and his running mate, Alaska Gov. Sarah Palin, made their acceptance speeches. This includes a strong night for McCain in Friday's interviewing, the first full night of interviewing following his acceptance speech.
The first Gallup Poll Daily tracking report based on interviewing conducted entirely after McCain's speech (from Friday through Sunday) will be published on Monday. The test for McCain will be whether he can do more than return the race to the absolute tie seen at the beginning of the convention period, and actually lead Obama by a significant margin for the first time since late April/early May. -- Lydia Saad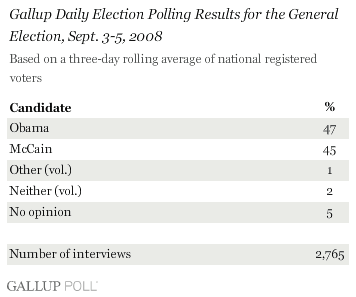 (Click here to see how the race currently breaks down by demographic subgroup.)
Survey Methods
For the Gallup Poll Daily tracking survey, Gallup is interviewing no fewer than 1,000 U.S. adults nationwide each day during 2008.
The general election results are based on combined data from Sept. 3-5, 2008. For results based on this sample of 2,765 registered voters, the maximum margin of sampling error is ±2 percentage points.
Interviews are conducted with respondents on landline telephones (for respondents with a landline telephone) and cellular phones (for respondents who are cell phone only).
In addition to sampling error, question wording and practical difficulties in conducting surveys can introduce error or bias into the findings of public opinion polls.
To provide feedback or suggestions about how to improve Gallup.com, please e-mail
feedback@gallup.com
.