WASHINGTON, D.C. -- While a new bipartisan report concludes that the United States remains "dangerously vulnerable" to terrorist attacks, most Americans do not fear being directly affected. Only 38% are very or somewhat worried that they or a family member will become a victim of terrorism. This is down from 47% last July, and from a high of 59% in October 2001, but is still short of a post-9/11 low of 28% in January 2004.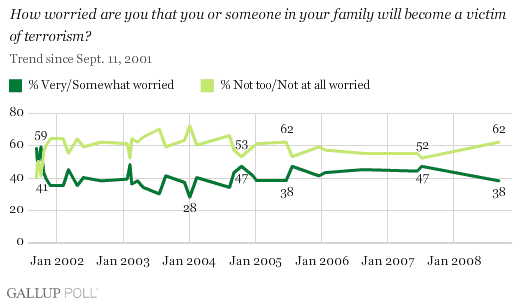 The report from the Partnership for a Secure America comes on the eve of the seventh anniversary of the terrorist attacks of Sept. 11, 2001, and less than eight weeks before Americans elect a new leader who will continue the nation's fight against terrorism. The report gives the U.S. government a "C" grade on how it has managed the terrorist threat, and urges the country's next president to improve counterproliferation efforts.
Americans are roughly split on how things are going for the United States in the war on terrorism, with 52% saying they are very or somewhat satisfied and 47% saying they are not too or not at all satisfied. Satisfaction on this measure peaked at 75% during the first year of the war in Afghanistan, subsequently dipping below 60% in 2004, and leveling off in the current range since then.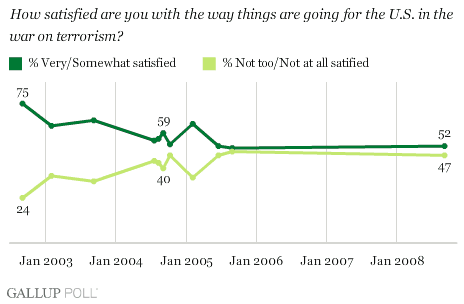 Currently, terrorism does not appear to factor high in Americans' choice for a new president, as only 12% consider terrorism the most important factor in their vote. Earlier this year, when given a choice, a majority of Americans said they would prefer a presidential candidate whose greatest strength is fixing the economy rather than one whose greatest strength is protecting the country from terrorism. This may reflect the huge volume of negative economic news on the airwaves, compared to the more muted discussion of the ongoing global terrorist threat. In August of this year, only 2% of Americans mentioned terrorism when asked to name the most important problem facing the country, down from 46% in October 2001.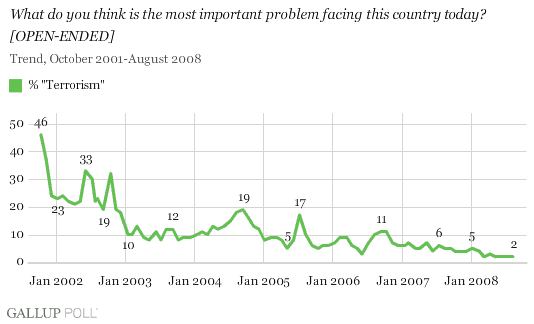 Any increased attention to the issue of terrorism is most likely to benefit Republican presidential nominee John McCain, as he has consistently outperformed Democratic rival Barack Obama on this issue throughout this election year, most recently by 17 percentage points.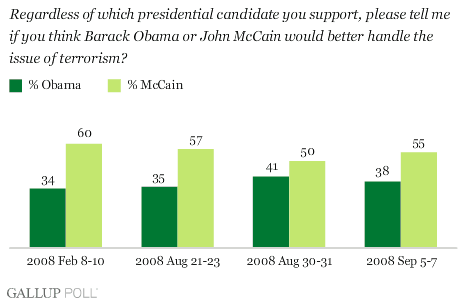 Bottom Line
Seven years after the terrorist attacks of Sept. 11, 2001, Americans appear to have mixed feelings about the progress the U.S. government has made to protect them from future attacks. While a majority of Americans express little worry about being directly affected by a terrorist attack, only a slim majority are satisfied with how the United States is handling the war on terrorism overall. Although a new report concludes that the next U.S. president will have much work to do on the counterterrorism front, up to now, Americans have not been making the terrorism issue a top priority in the ongoing presidential campaign. A majority say that a president's being able to handle the economy is more important to their vote than his ability to handle terrorism. It is of course possible that the bipartisan report or a terrorism-related news event could change attitudes or bring this issue back to the forefront.
Survey Methods
Results are based on telephone interviews with 1,022 national adults, aged 18 and older, conducted Sept. 5-7, 2008. For results based on the total sample of national adults, one can say with 95% confidence that the maximum margin of sampling error is ±3 percentage points.
For results based on the half sample of 465 adults in Form B, the maximum margin of sampling error is ±5 percentage points
Interviews are conducted with respondents on land-line telephones (for respondents with a land-line telephone) and cellular phones (for respondents who are cell-phone only).
In addition to sampling error, question wording and practical difficulties in conducting surveys can introduce error or bias into the findings of public opinion polls.
To provide feedback or suggestions about how to improve Gallup.com, please e-mail feedback@gallup.com.