Gallup Presidential Election Trial-Heat Trends, 1936-2008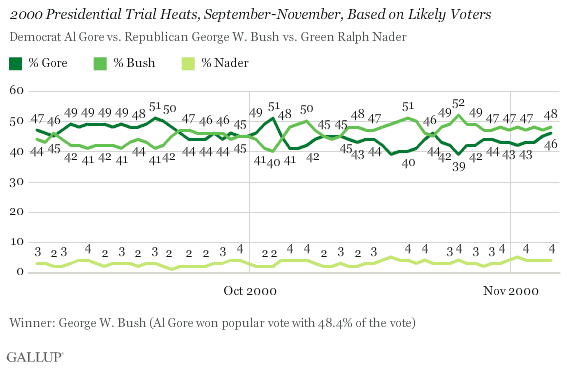 Subscribe to receive Gallup News alerts.
Never miss our latest insights.
Recommended
Newt Gingrich leads Mitt Romney 37% to 22% among Republican registered voters in Gallup's inaugural Daily tracking of the party's 2012 presidential nomination race; all other candidates are in single digits. Gingrich's support has increased 15 points compared with Gallup polling conducted in mid-November.
Newt Gingrich (62%) and Mitt Romney (54%) are the only candidates a majority of Republicans say would be acceptable presidential nominees from their party, emphasizing the degree to which the GOP race has narrowed down to these two men at this juncture.
Republicans are now most likely to name Mitt Romney (20%) and Newt Gingrich (19%) as their first choice for the party's 2012 presidential nomination, followed closely by Herman Cain (16%). Gingrich's support has increased seven points since earlier this month and is his highest to date.
Gallup's April 7 review of its latest findings on the COVID-19 includes several new insights on the effect on workers, and Americans' anxiety.

Gallup https://news.gallup.com/poll/110548/gallup-presidential-election-trialheat-trends-19362004.aspx
Gallup World Headquarters, 901 F Street, Washington, D.C., 20001, U.S.A
+1 202.715.3030