PRINCETON, NJ -- Barack Obama continues to lead John McCain in national voter preferences for the presidential election, now by a four percentage point margin, 49% to 45%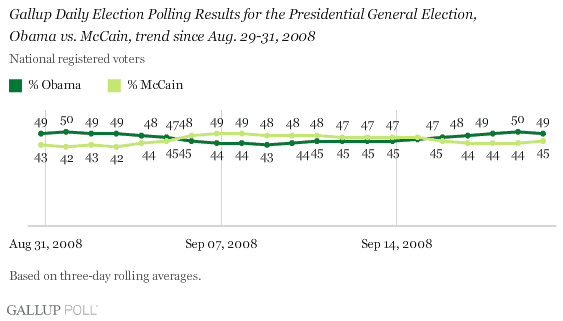 Until now, Obama had advanced on McCain in Gallup Poll Daily tracking each day this past week, with the start of that trend coinciding with the news of Lehman Brothers' imminent bankruptcy on Sunday, Sept. 14. Obama's position versus McCain shifted from a two-point deficit in voter preferences in Monday's report (tracking interviews from Sept. 12-14, 2008), to a two-point advantage on Wednesday, a four-point lead on Thursday and a six-point lead on Saturday.
Today's report, based on interviewing conducted Sept. 18-20 (Thursday through Saturday), marks the first day since the start of Obama's recent ascent that his lead over McCain has not increased.
From a broader perspective, the race has been relatively close all year, with neither candidate achieving as much as a 10-point lead. Obama's record high nine-point lead came in late July (following his trip to Europe and the Middle East). He also held an eight-point lead right after the Democratic National Convention in late August. McCain's best performance came in late April/early May when he led Obama by six-points. More recently, his best showing has been with five-point leads, immediately following the Republican National Convention in early September. -- Lydia Saad
(To view the complete trend since March 7, 2008, click here.)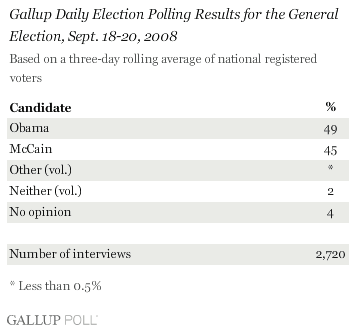 (Click here to see how the race currently breaks down by demographic subgroup.)
Survey Methods
For the Gallup Poll Daily tracking survey, Gallup is interviewing no fewer than 1,000 U.S. adults nationwide each day during 2008.
The general election results are based on combined data from Sept. 18-20, 2008. For results based on this sample of 2,720 registered voters, the maximum margin of sampling error is ±2 percentage points.
Interviews are conducted with respondents on landline telephones (for respondents with a landline telephone) and cellular phones (for respondents who are cell phone only).
In addition to sampling error, question wording and practical difficulties in conducting surveys can introduce error or bias into the findings of public opinion polls.
To provide feedback or suggestions about how to improve Gallup.com, please e-mail feedback@gallup.com.