PRINCETON, NJ -- There is little change in the Gallup Poll Daily tracking results covering Friday, Saturday, and Sunday interviews, as Barack Obama leads John McCain by a four percentage point margin among registered voters, 48% to 44%.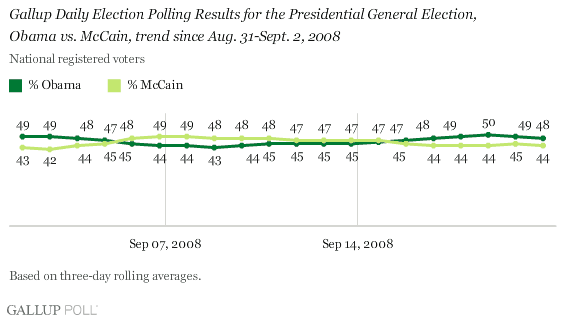 The four-point margin in favor of Obama is the same as in Sunday's report. Gallup's separate tracking of consumer confidence showed little change over the weekend, suggesting that Americans may be taking a breath after last week's fast-paced barrage of news about Wall Street and the economy.
Obama's current lead is similar to what Gallup measured for much of last summer before the start of the conventions in late August. During the convention time period, of course, there was significant change in the candidates' standings, with Obama moving ahead by as much as eight points after the Democratic National Convention, and then McCain moving ahead by five points after his party's convention. Both candidates appear to be focusing their public remarks, at this point, on the extraordinary planned government financial bailout, which could have some impact on the race this week -- but the major event looming on the horizon is the first presidential debate at the University of Mississippi this Friday. -- Frank Newport
(To view the complete trend since March 7, 2008, click here.)
(Click here to see how the race currently breaks down by demographic subgroup.)
Survey Methods
For the Gallup Poll Daily tracking survey, Gallup is interviewing no fewer than 1,000 U.S. adults nationwide each day during 2008.
The general election results are based on combined data from Sept. 19-21, 2008. For results based on this sample of 2,740 registered voters, the maximum margin of sampling error is ±2 percentage points.
Interviews are conducted with respondents on landline telephones (for respondents with a landline telephone) and cellular phones (for respondents who are cell phone only).
In addition to sampling error, question wording and practical difficulties in conducting surveys can introduce error or bias into the findings of public opinion polls.
To provide feedback or suggestions about how to improve Gallup.com, please e-mail feedback@gallup.com.