PRINCETON, NJ -- Registered voters across the country continue to favor Barack Obama over John McCain for president, now by 50% to 43% in Gallup Poll Daily tracking from Oct. 2-4.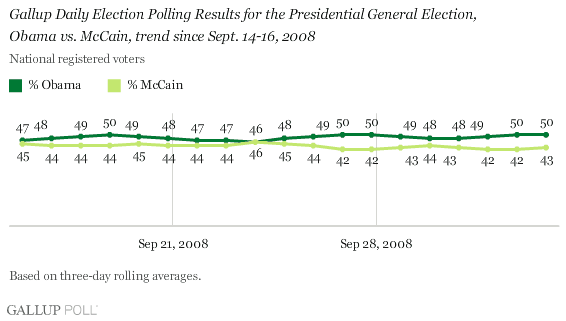 This is the ninth consecutive Gallup Poll Daily report showing Obama leading by a significant margin, tying Obama's record frontrunner streak of nine days around the time of the Democratic National Convention in late August and early September. (To view the complete trend since March 7, 2008, click here.)
Today's result includes two full days of interviewing after the Oct. 2 vice presidential debate between Gov. Sarah Palin and Sen. Joe Biden, as well as after the news on Friday, Oct. 3, that Congress had passed a revised economic rescue plan to help alleviate the Wall Street financial crisis.
The race has been slightly closer on both of these two individual days (Oct. 3-4) than the previous two days. Obama held particularly large leads over McCain from Oct. 1-2, possibly resulting from Americans' focus on the Wall Street financial crisis and congressional rescue plan dominating the news at that time. Since then, support for Obama has remained about the same, at the 49% to 50% level, while support for McCain has increased slightly, with an associated decline in the percentage of undecided voters.
Monday's report will be the first based entirely on interviews conducted after the vice presidential faceoff and, as such, will be an important indicator of whether Palin's debate performance and, or any possible easing of public anxiety over the rescue package since Friday, may have benefited the Republican ticket. -- Lydia Saad
(Click here to see how the race currently breaks down by demographic subgroup.)
Survey Methods
For the Gallup Poll Daily tracking survey, Gallup is interviewing no fewer than 1,000 U.S. adults nationwide each day during 2008.
The general-election results are based on combined data from Oct. 2-4, 2008. For results based on this sample of 2,728 registered voters, the maximum margin of sampling error is ±2 percentage points.
Interviews are conducted with respondents on land-line telephones (for respondents with a landline telephone) and cellular phones (for respondents who are cell phone only).
In addition to sampling error, question wording and practical difficulties in conducting surveys can introduce error or bias into the findings of public opinion polls.