PRINCETON, NJ -- Round three of the presidential debates went to Barack Obama, according to a one-night USA Today/Gallup poll of debate watchers conducted Oct. 16, completing a sweep of the three debates for Obama.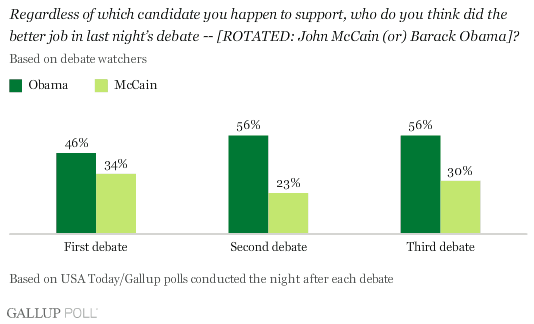 Debate watchers were more likely to say McCain did a better job than Obama in the third debate than in the second debate (30% to 23%), but McCain's best showing in the eyes of the viewing public was the first debate, when 34% said he did the better job. Still, Obama won each debate by a convincing margin.
Obama's debate wins generally keep tradition with what Gallup has found historically. Gallup polls seeking reaction to past presidential debates as early as 1960 -- conducted either immediately after each debate concluded or in the succeeding days -- have most often shown that the Democratic candidate has been viewed as the winner over the Republican candidate. Gallup has found that, despite all the attention paid to the debates, they generally do little to transform the presidential race. For example, John Kerry was viewed as the winner of all three presidential debates in 2004 but still lost the election to George W. Bush.
Opinions of Candidates
In each of the three debate-reaction polls USA Today and Gallup conducted this year, roughly half of the viewers said their opinions of each candidate were not affected by the debate. But the debates apparently did more to enhance Obama's image than McCain's. After each of the three debates, more debate watchers said their opinion of Obama was more favorable than said it was less favorable.
In contrast, those whose opinion of McCain was influenced by the debates tended to come away with a less positive view of the Republican nominee.
The Debate Audience
Roughly two-thirds of Americans reported tuning in to each of the three presidential debates, including 63% for the Sept. 26 debate largely focused on foreign policy, 66% for the Oct. 7 town-hall-style debate, and 65% for the most recent debate, which concentrated on domestic policy.
Seventy-three percent of self-identified Democrats, 68% of Republicans, and 55% of independents reported watching Wednesday night's debate.
Survey Methods
Results are based on telephone interviews with 1,015 national adults, aged 18 and older, conducted Oct. 16, 2008. For results based on the total sample of national adults, one can say with 95% confidence that the maximum margin of sampling error is ±3 percentage points.
For results based on the sample of 729 national adults who watched the Oct. 15 debate, the maximum margin of sampling error is ±4 percentage points.
Interviews are conducted with respondents on land-line telephones (for respondents with a land-line telephone) and cellular phones (for respondents who are cell-phone only).
In addition to sampling error, question wording and practical difficulties in conducting surveys can introduce error or bias into the findings of public opinion polls.
Polls conducted entirely in one day, such as this one, are subject to additional error or bias not found in polls conducted over several days.