PRINCETON, NJ -- An average of 36% of Americans identified themselves as Democrats and 28% as Republicans in 2008. That eight-point advantage is the largest for the Democratic Party since Gallup began regularly conducting its polls by telephone in 1988.
Those data are based on the average party identification in Gallup's 2008 stand-alone polls, consisting of more than 30,000 interviews.
The year-by-year trend shows that Democrats have gained ground against Republicans in each of the last five years, going from a deficit of two points in 2003 to the most recent eight-point advantage.
Additionally, the 36% of Americans who identified as Democrats last year matches the high point in Democratic identification since 1988, when it was also 36%. But since fewer Americans identified as Republicans last year (28%) than in 1988 (31%), the Democratic advantage was larger in 2008.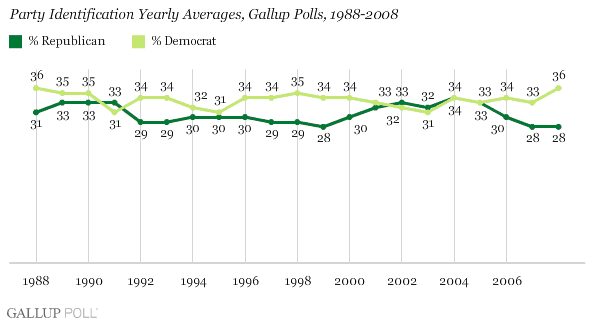 One would have to go back to 1983, when Democrats held a decisive 19-point advantage in party identification (43% to 24%), to find a significantly better showing for the Democratic Party in any Gallup polling. In 1984, the year Ronald Reagan was re-elected, the Democratic-Republican gap narrowed considerably. Since then, neither party has enjoyed a double-digit advantage in any year, though Democrats have held an advantage in almost all of these years.
Democratic Support Above Majority Level
A second measure of party support -- which adds independents who say they "lean" toward one party or the other into that party's total -- also shows 2008 to have been a banner year for the Democratic Party. Last year, 52% of Americans identified as Democrats or said they leaned to the Democratic Party, compared with 40% who identified with or leaned to the Republican Party. That is the best showing for the Democrats -- in terms of both the percentage of Democratic supporters and their advantage over Republicans -- since Gallup began regularly tracking this measure of party support in 1991.
This marks the third successive year that a majority of Americans either identified as Democrats or leaned to that party, something neither party accomplished from 1991 through 2005.
Implications
The Democratic Party is currently riding a winning streak in party affiliation, which has manifested itself in the party's decisive victories in the 2006 and 2008 elections. Barack Obama's election and popularity will surely help to advance the Democratic policy agenda -- something the party had difficulty doing the last two years with a narrow Senate majority and George W. Bush in the White House.
It is not clear at this point whether the Democratic Party can return to the days when it enjoyed consistent double-digit advantages in party identification from the late 1950s through the early 1980s. The challenge for the party is to keep the positive momentum going while governing with total control of the legislative and executive branches of government. Clearly, much of the Democratic momentum in recent years has been the result of dissatisfaction with the way the Republicans were governing the nation. The Republicans, in turn, will attempt to regroup as the minority party and win back some of the support they have lost in recent years.
Survey Methods
Results are based on averages from all 2008 Gallup stand-alone polls in 2008, consisting of more than 30,000 interviews with national adults, aged 18 and older. For this total number of interviews, one can say with 95% confidence that the maximum margin of sampling error is ±1 percentage point.
Interviews are conducted with respondents on land-line telephones (for respondents with a land-line telephone) and cellular phones (for respondents who are cell-phone only).
In addition to sampling error, question wording and practical difficulties in conducting surveys can introduce error or bias into the findings of public opinion polls.