PRINCETON, NJ -- Public satisfaction with the state of the nation remains in short supply just over a week after President Barack Obama was sworn in. Only 17% of Americans are satisfied with the way things are going in the country in Gallup Poll Daily tracking from Jan. 27-29; 80% are dissatisfied.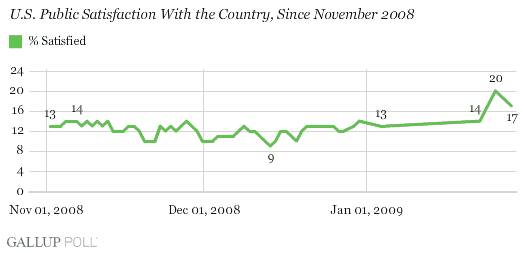 This 17% U.S. satisfaction rating is slightly better than the 13% rating seen at the start of January, as well as the 13% right before the presidential election in November, and reflects an uptick in satisfaction that occurred right after the inauguration. Still, satisfaction remains extraordinarily low relative to more prosperous times in the nation's recent history -- such as 1999 and 2002, when over 60% of Americans were satisfied.
The connection between low public satisfaction with the country and consumer anxiety about the economy is clear in Gallup's trends for both measures; the two have been quite parallel since Gallup instituted routine economic measurements in 1992. Satisfaction tended to run higher than positive economic ratings in the post-9/11 period from late 2001 through 2004, but since then, these attitudes have been more closely linked.
Obama Boosts Democrats' Satisfaction; Dampens Republicans'
Both the election of Obama on Nov. 4 and his inauguration on Jan. 20 appear to have improved Democrats' and independents' perceptions of the country, but they have had the opposite effect on Republicans. As a result, all three party groups now report similar levels of satisfaction: 15% for Republicans, 16% for independents, and 18% for Democrats. That contrasts with Gallup's pre-election polling, in which Republicans were significantly more positive than independents and Democrats.
The partisan shift in satisfaction seen around the transfer of the presidency from one political party to the other in 2008 and 2009 is quite modest relative to the last such political change, when George W. Bush succeeded Bill Clinton as president in 2001. At that time, Gallup documented a switch from a strong Democratic lead over Republicans in satisfaction in October 2000 (78% of Democrats were satisfied versus 50% of Republicans) to a strong Republican lead over the Democrats by February 2001 (67% versus 44%).
Similar reversals in partisan satisfaction ratings were seen around the previous two party shifts in the White House: the transitions from Jimmy Carter to Ronald Reagan in 1981 and from George H.W. Bush to Bill Clinton in 1993. However, U.S. satisfaction was measured less frequently in those eras, so those assessments are made on the basis of polling conducted several months into each administration. Gallup will return to this analysis in the coming months to see how partisan satisfaction with the country under Obama compares with that under Reagan and Clinton during their first years in office.
Bottom Line
Negative feelings about the economy remain the primary driver of public attitudes about the country, and that is dampening the satisfaction scores of all Americans -- Republican and Democratic alike. Nevertheless, the arrival of a new Democratic administration has changed attitudes at the margins, making Democrats and independents somewhat more upbeat than they had been prior to the election, and Republicans less satisfied. The net result is a slight overall increase in satisfaction.
Survey Methods
Results are based on telephone interviews with 1,560 national adults, aged 18 and older, conducted Jan. 27-29, 2009. For results based on the total sample of national adults, one can say with 95% confidence that the maximum margin of sampling error is ±3 percentage points.
Interviews are conducted with respondents on land-line telephones (for respondents with a land-line telephone) and cellular phones (for respondents who are cell-phone only).
In addition to sampling error, question wording and practical difficulties in conducting surveys can introduce error or bias into the findings of public opinion polls.