WASHINGTON, D.C. -- Russia's newest anti-corruption legislation, signed into law in December, is the latest in a series of President Dmitry Medvedev's efforts to demonstrate his administration's commitment to combating corruption. A Gallup Poll of Russia -- conducted the same month Medvedev took office in May 2008 -- reveals about three-fourths of Russians (74%) believe corruption is widespread in their government; however, this percentage has declined significantly since 2007.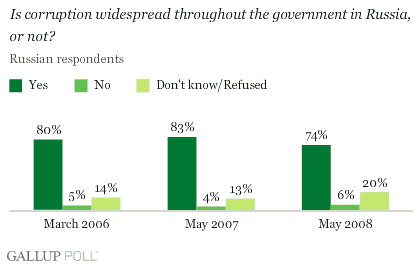 Russians' perceptions of the pervasiveness of corruption in business also experienced a similar decline during this period.
Despite this slight improvement in the public's perceptions of corruption, slightly more than a third of Russians (37%) surveyed last year said the level of corruption in their country as a whole is higher than it was five years ago and another third (36%) said the level is about the same.
When asked to compare the level of corruption in Russia today versus the level of corruption during the Soviet Union days, the percentage of those who said the level of corruption is higher has also declined significantly since 2007. However, two-thirds of Russians still said the level of corruption in their country is higher than during the days of the Soviet Union.
Shortly after taking office in May, Medvedev, who vowed to fight corruption during his campaign, signed a decree creating the Presidential Council on Counteraction of Corruption. The latest anti-corruption law outlines prevention measures targeted mainly at achieving greater transparency among elected officials. Gallup data collected last year reveal a majority of Russians were dissatisfied with the government measures to fight corruption at the time of polling. Nearly 7 in 10 Russians (69%) said their government was not doing enough to fight corruption. With new legislation now in effect, Gallup will continue to gauge whether this sentiment changes in Russia.
Survey Methods
Results are based on face-to-face interviews with approximately 2,000 adults in May 2008 and March 2006 and approximately 1,500 adults in May 2007, aged 15 and older, in Russia. For results based on the total sample of national adults, one can say with 95% confidence that the maximum margin of sampling error is ±2 percentage points for sampling size of 2,000 and ±3 percentage points for sampling size of 1,500. In addition to sampling error, question wording and practical difficulties in conducting surveys can introduce error or bias into the findings of public opinion polls.