PRINCETON, NJ -- Public support for an $800 billion economic stimulus package has increased to 59% in a USA Today/Gallup poll conducted Tuesday night, up from 52% in Gallup polling a week ago, as well as in late January.
Most of the newfound support comes from rank-and-file Democrats, suggesting President Barack Obama's efforts to sell the plan over the past week -- including in his first televised news conference on Monday -- have shored up support within his own party. Last week, Gallup found 70% of Democrats in favor of Congress passing the economic stimulus package, but today that figure is 82%.
Over the same period, support for the stimulus package held steady among independents, with a slight majority in favor of it. The percentage of Republicans favoring the package rose slightly from 24% to 28%, but remains below the 34% support received in early January, before Congress began its formal consideration of the package.
Economic Views Not Related to Stimulus Views
According to Gallup Poll Daily tracking from Feb. 8-10, only 11% of Americans consider U.S. economic conditions to be "excellent" or "good", while 29% call them "only fair", and 59% "poor." However, there is very little difference in support for the stimulus package among these groups of differing economic perceptions. The majority of all three groups favor Congress approving upward of $800 billion in economic stimulus programs.
Similarly, there is little difference in support for the plan according to Americans' personal financial situation. About a third of Americans tell Gallup they worried about money "yesterday" -- suggesting they are in a certain amount of financial distress. Accordingly, 63% of this attitudinal group favors passage of the plan. However, 58% of those who did not worry about money "yesterday" support the plan as well.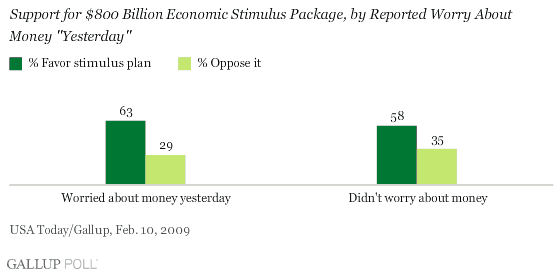 Bottom Line
Obama's salesmanship appears to have been effective in recent days, helping to build public support for the economic stimulus package, and thus push Congress to pass a final version by his desired Presidents Day deadline. At the least, he has stemmed any erosion of support in the face of some spirited conservative opposition. While most of the increase in support is among Democrats, the plan retains solid support from independents and has not lost any ground recently among Republicans.
Although the stimulus plan is purportedly being passed to address the nation's economic problems, Americans' perceptions of the economy -- and of their own personal financial situations -- have little bearing on their support for it. Political orientation is the overriding factor.
Survey Methods
Results are based on telephone interviews with 1,021 national adults, aged 18 and older, conducted Feb. 10, 2009, as part of Gallup Poll Daily tracking. For results based on the total sample of national adults, one can say with 95% confidence that the maximum margin of sampling error is ±3 percentage points.
Interviews are conducted with respondents on land-line telephones (for respondents with a land-line telephone) and cellular phones (for respondents who are cell-phone only).
In addition to sampling error, question wording and practical difficulties in conducting surveys can introduce error or bias into the findings of public opinion polls.
Polls conducted entirely in one day, such as this one, are subject to additional error or bias not found in polls conducted over several days.