Amid recurring questions about whether the war in Iraq was justified, how many Americans currently feel that no war is justified? Over the last 30 years, Gallup has occasionally asked Americans for their opinions on the need for war as a means to resolve conflicts between nations. The first time the question was asked, in June 1971, the number of American deaths in Vietnam had surpassed 50,000 and antiwar sentiment among Americans was stronger than ever. At that time, 46% of Americans believed war to be an outmoded way to settle differences between nations, while 44% believed that war is sometimes necessary.
In 2004, against the backdrop of war in Iraq and an ongoing military campaign against terrorism, public opinion on the need for war was quite different from what it was in 1971. According to a February 2004 poll*, a mere 24% of Americans said that war is outdated, and 73% thought that war is sometimes necessary.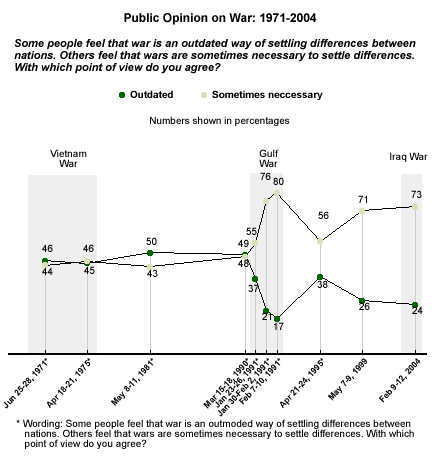 In four measurements between 1971 and March 1990, public opinion on the need for war was roughly evenly divided -- approximately half of Americans believed that war is sometimes necessary, and the other half believed war was outmoded. In January 1991, opinion on the subject began to diverge significantly. Not coincidentally, this was the same month that U.N. and American diplomatic attempts to end the Iraqi occupation of Kuwait failed and the Persian Gulf War began.
A week after Operation Desert Storm began, Jan. 23-26, 1991, Gallup polled Americans on their views of war. For the first time since Gallup began asking the question in 1971, a majority of Americans (55%) took the position that war is sometimes necessary, while 37% maintained that war is an outmoded way of settling differences. Opinion shifted dramatically thereafter. By the end of January and beginning of February 1991, 76% of Americans took the view that war was sometimes necessary, which further increased in a Feb. 7-10 poll.
Four years later, when Gallup repeated the question, the public's view on war had softened somewhat. In an April 1995 poll, taken immediately after the bombing of the Alfred P. Murrah Federal Building in Oklahoma City, and in the midst of increased fighting in the Balkans, 56% of Americans said war was necessary, while 38% said it was not. But by May 1999 during the NATO air campaign in Kosovo, the percentage believing in the necessity of war was back up to 71%. The most recent data show that the percentage appears to be holding steady in the post-9/11 world.
*Results are based on telephone interviews with 1,002 national adults, aged 18 and older, conducted Feb. 9-12, 2004. For results based on the total sample of national adults, one can say with 95% confidence that the margin of sampling error is ±3 percentage points.