Education -- specifically fairness in education -- has become a focal point in the politically charged atmosphere three months before the presidential election. The virtues and drawbacks of President George W. Bush's "No Child Left Behind" policy have been increasingly scrutinized as the candidates work to explain their perspectives and define their positions to voters.
Given that low-income students and minorities often feel the brunt of school funding inequities, it's particularly relevant to look at whether Americans think black children have fewer resources than white children do in their classrooms. The most recent Gallup Minority Rights and Relations poll* shows that American opinion on educational opportunities for black children is quite similar to readings spanning the past 15 years, and particularly opinion from the past five years -- a period that included the last presidential election cycle.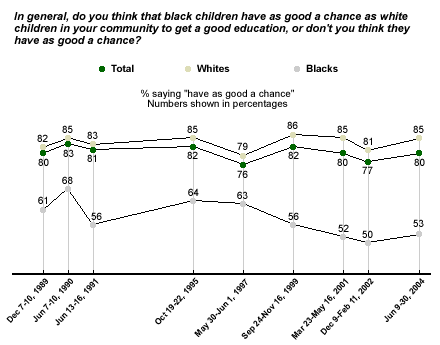 Americans who self-identify as Republicans tend to have noticeably different views on the educational opportunities of black children in their communities than do those who consider themselves Democrats. While approximately two-thirds of Democrats (67%) believe that black children have as good a chance as white children do to get a good education in their local communities, 9 in 10 Republicans (90%) hold that opinion.
Partisanship, as widely noted, bears a strong relationship to race, with black Americans much more likely to claim Democratic affiliation than Republican affiliation.
However, the fact that most blacks identify themselves as Democrats does not solely explain the differences between Republicans and Democrats on this issue. American opinion diverges markedly on fairness in education by both partisanship and race. Only 73% of white Democrats believe that black children and white children have equal opportunities for a good education, compared with 91% of white Republicans. And although our sample included only 41 black Republicans, making it too small to support reliable conclusions, the cross-party comparison for black respondents suggests that the party gap could be nearly as large for blacks as for whites.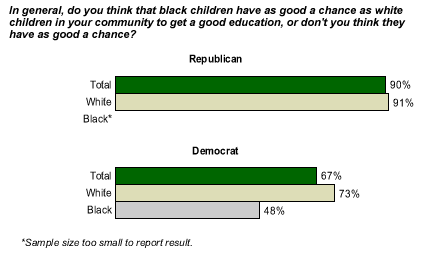 But within both the Democratic and Republican parties, blacks are also significantly less likely than their white counterparts to believe that black children have the same opportunities that white children do to get a good education. In fact, divergences of opinion on the issue of racial opportunities in education between black and white constituencies are as large as the differences between the two political parties overall.
Bottom Line

As the presidential campaign enters its final stages following the party conventions, where do the candidates stand? The Kerry-Edwards ticket suggests establishing a National Education Trust Fund to provide school funding and to ensure that No Child Left Behind (NCLB) works by rewarding those who meet the standards and improve. The Bush-Cheney campaign continues to focus on the initial bipartisan support for NCLB and to cite its goals -- that schools, states, and teachers be accountable for the education of all of the nation's youth.
It is clear that views on racial equality in educational opportunity resonate with voting intentions: Among those who expect to vote for Kerry, 68% feel that black children have as good a chance as white children to get a good education, while 92% of Bush supporters feel this way. But one less-apparent reality is the fact that each of the parties represents a diverse coalition of racial constituencies with distinct views on this issue, forged from their own distinct experiences and perspectives.
*The results are based on telephone interviews with a national sample of 2,250 adults, aged 18 and older, conducted June 9-30, 2004, including oversamples of blacks and Hispanics that are weighted to reflect their proportions in the general population. For results based on the total sample of national adults, one can say with 95% confidence that the maximum margin of sampling error is ±5 percentage points.
Results for the sample of 1,122 whites, aged 18 and older, carry a sampling tolerance of ±6 percentage points. Results for the sample of 854 blacks, aged 18 and older, carry a sampling tolerance of ±8 percentage points.
In addition to sampling error, question wording and practical difficulties in conducting surveys can introduce error or bias into the findings of public opinion polls.