On Election Day this year, residents in Michigan (along with those in potentially 11 other states) will vote on whether to amend their state constitution to make marriages between same-sex couples illegal. As part of a special poll of Michigan registered voters*, Gallup sought to find out how the people in that state plan to vote on this contentious issue.
Michigan residents who are registered to vote are somewhat more likely to say they would vote against, rather than vote for, a proposal to ban gay or lesbian marriages in their state. Support for the gay marriage ban in Michigan is highest among conservatives, men, and residents aged 35 and older.
According to the poll, a bare majority of Michigan registered voters -- 51% -- say they would vote against the proposal to ban gay marriages. This compares with 44% who would vote for the proposal. Among likely Michigan voters, the results are essentially the same, with 51% against the ban and 45% in favor.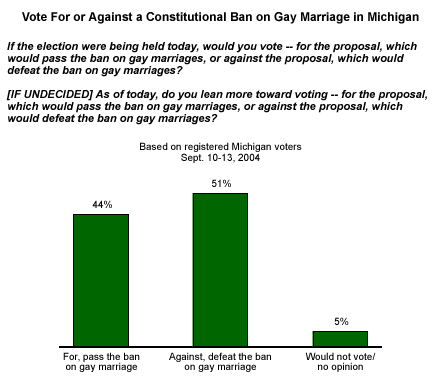 The split on the Michigan ballot proposal reflects ambivalence among Americans nationwide on the issue of gay marriage. Gallup periodically asks Americans if "marriages between homosexuals should or should not be recognized by the law as valid, with the same rights as traditional marriages." Generally, a substantial majority feels these marriages should not be recognized as legally valid. However, when Americans are asked specifically about a constitutional amendment "that would define marriage as being between a man and a woman, thus barring marriages between gay or lesbian couples," their responses are much more divided.
Ideological, Gender, and Age Differences
Not surprisingly, conservative Michigan voters are much more likely than moderate or liberal voters in their state to support the proposal to ban gay or lesbian marriages. Sixty-two percent of registered voters in Michigan who identify themselves as conservatives support the gay marriage ban, while 34% oppose it. Forty percent of moderate registered voters say they would vote for the ban, compared with 54% who would vote against it. Only about one in four liberal voters (24%) support the ban on gay marriage in the state, while 72% oppose it.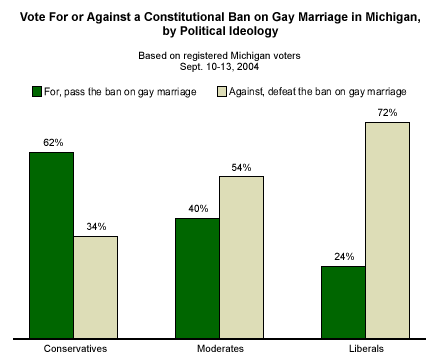 The poll also finds different levels of support among men and women in the Michigan electorate. Men are essentially split in their opinions on the issue, with 49% supporting and 47% opposing the proposal to pass the ban. Women, meanwhile, are much more likely to oppose the proposal, with 40% for it and 53% against it.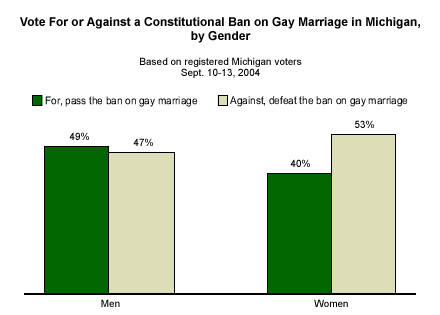 By 61% to 36%, younger registered voters (aged 18 to 34) in Michigan, say they would vote against the gay marriage ban. Opinions among older Michigan voters (aged 35 and older) are closely divided.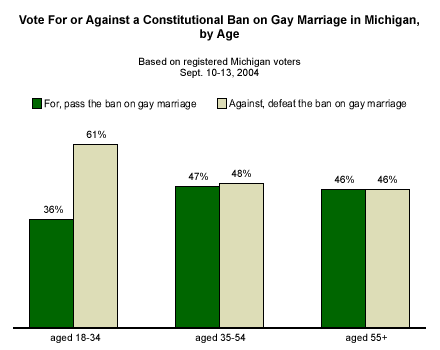 *Results are based on telephone interviews with 829 registered voters in Michigan, aged 18 and older, conducted Sept. 10-13, 2004. For results based on this sample, one can say with 95% confidence that the margin of sampling error is ±4 percentage points. In addition to sampling error, question wording and practical difficulties in conducting surveys can introduce error or bias into the findings of public opinion polls.