GALLUP NEWS SERVICE
PRINCETON, NJ -- As media analysts and journalists wring their hands over the fallout from CBS News' faulty reporting relative to President George W. Bush's Vietnam-era National Guard service, a new Gallup Poll finds the news media's credibility has declined significantly among the public. The Sept. 13-15 poll -- conducted after the CBS News report was questioned but before the network issued a formal apology -- found that just 44% of Americans express confidence in the media's ability to report news stories accurately and fairly (9% say "a great deal" and 35% "a fair amount"). This is a significant drop from one year ago, when 54% of Americans expressed a great deal or fair amount of confidence in the media. The latest result is particularly striking because this figure had previously been very stable -- fluctuating only between 51% and 55% from 1997-2003.
Conversely, 39% currently say they have "not very much" confidence in the media's accuracy and fairness, while 16% say they have "none at all."
Clearly, something new has happened to shake public confidence in the media, but whether that "something" is the recent CBS News controversy is a matter of speculation. One might assume that if the CBS News story were the culprit, that this would be reflected in a disproportionately large drop in confidence in the media among Republicans. However, the data on this is not conclusive. Trust in the news media is typically lower among Republicans, but all three partisan groups show a significant decline in confidence in the media since last year. It did drop by a somewhat greater degree among Republicans than Democrats, however.
% Great Deal/Fair Amount of Trust in News Media

2003

2004

Change

%

%

%

Republicans

44

31

-13

Independents

53

44

-9

Democrats

66

59

-7
Prior to 1997, Gallup had asked this media confidence question three times during the 1970s, the first time just a month before the burglary of the Democratic National Committee headquarters at Washington's Watergate office complex. News coverage of the Watergate scandal brought about a new era of investigative journalism that continues today, and has occasionally resulted in highly publicized errors such as the current conflict involving CBS News and the 1998 CNN-Tailwind scandal, when CNN was forced to retract a story accusing the U.S. military of using nerve gas in a mission to kill American defectors in Laos during the Vietnam War.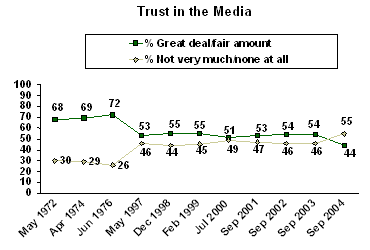 As one might expect, given the highly polarized nature of American politics, there are clear differences along ideological lines. However, despite the existence of the often-used term "liberal media", even liberals can be critical of the media's reliability. Just 48% of those who identified themselves as politically liberal expressed confidence in the media, compared with 38% of those who identify themselves as conservative. On the other hand, 52% of liberals expressed little or no confidence in the media, compared to 60% of conservatives.
Apparent distrust of the media is consistent among other demographic groups, with one exception: those with lower levels of education and income are more likely to have confidence in the media's accuracy and fairness than those with more education and higher incomes. As an example, 51% of those earning less than $20,000 annually express confidence in the media's accuracy and fairness, compared with 36% of those earning more than $75,000. Also, 51% of those with a high school diploma or less express confidence in the media, while just 40% of those who have attended college do.
Media Consistently Perceived as "Too Liberal"
The poll found that 48% of Americans view the news media as "too liberal", while 15% viewed it as "too conservative" and another 33% perceived the media as "just about right." Clearly, one would expect to find ideological differences on this question. Nearly three out of four conservatives (74%) say the media are too liberal, 6% too conservative, and 19% just about right. However, liberals may look at the large corporations that own many major media organizations and see a much different picture: just 11% say the media are too liberal, 37% say too conservative, and 49% say just about right.
Survey Methods
These results are based on telephone interviews with a randomly selected national sample of 1,022 adults, aged 18 years and older, conducted Sept. 13-15, 2004. For results based on this sample, one can say with 95% confidence that the maximum error attributable to sampling and other random effects is ±3 percentage points. In addition to sampling error, question wording and practical difficulties in conducting surveys can introduce error or bias into the findings of public opinion polls.
20. In general, how much trust and confidence do you have in the mass media ‑‑ such as newspapers, T.V. and radio -- when it comes to reporting the news fully, accurately, and fairly -- a great deal, a fair amount, not very much, or none at all?
Great
deal

Fair
amount

Not very
much

None
at all

No
opinion

%

%

%

%

%

2004 Sep 13-15

9

35

39

16

1

2003 Sep 8-10

14

40

35

11

*

2002 Sep 5-8

10

44

35

11

*

2001 Sep 7-10

12

41

33

14

*

2000 Jul 6-9

12

39

37

12

*

1999 Feb 4-8

11

44

34

11

*

1998 Dec 28-29

11

44

35

9

1

1997 May 30-Jun 1

10

43

31

15

1

1976 Jun

18

54

22

4

2

1974 Apr

21

48

21

8

2

1972 May

18

50

24

6

2

* Less than 0.5%
32. In general, do you think the news media is -- [ROTATED: too liberal, just about right, or too conservative]?
Too
liberal

Just
about right

Too
conservative

No
opinion

%

%

%

%

2004 Sep 13-15

48

33

15

4

2003 Sep 8-10

45

39

14

2

2003 Feb 17-19

45

36

15

4

2002 Sep 5-8

47

37

13

3

2001 Sep 7-10

45

40

11

4