Adages on the sustaining power of love ring through the ages -- from the poet Virgil's first-century B.C. exhortation that "Love conquers everything" to the Beatles' more contemporary assurance, "All You Need Is Love." Still, in an era in which half of all marriages end in divorce, 21st century American teens remain unconvinced.
The most recent Gallup Youth Survey* shows that teenagers tend to believe that it takes more than love to make a marriage. Gallup asked 13- to 17-year-olds whether they think that, when it comes to marriage, "love should be the only consideration." Only 25% agreed, while 74% believe other things should be considered in addition to love.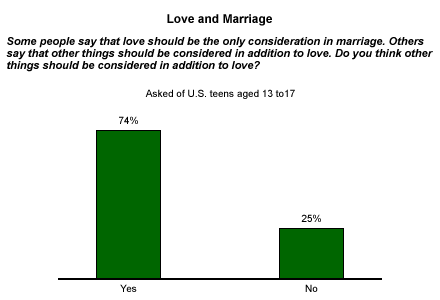 Even if Prince Charming showed up at their door, it appears that lovestruck teen girls wouldn't ride off into the sunset with him without a thought. Girls and boys are equally likely to believe other things should be considered in addition to love.
In Their Own Words
In an open-ended question, the survey also asked teens to describe what other things (in addition to love) should be considered in marriage. The most mentioned aspects include financial considerations, sharing common interests, trust, and having similar religious beliefs.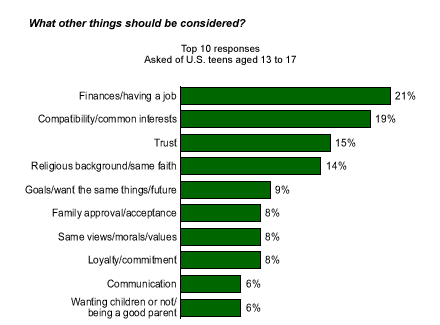 Although most teens are just beginning to explore the complex world of dating and relationships, many survey respondents offered insightful answers to the open-ended question. The themes of compatibility and financial security appear repeatedly. One teen succinctly stated that marriage requires "compatibility, shared interests, and the ability to give the other person enough space to be a happy person." Another says, "The ability to live in happiness and prosperity. You usually need a place to stay together, a source of income, and the ability to like each other in addition to love."
Another respondent notes the danger of marrying the wrong person: "Just because you love someone doesn't mean you are ready to marry them or want the same things as they do. You can love a serial killer or a drug dealer but to make the commitment to marry them and have a successful relationship requires more than just love."
Many teens feel that shared religious beliefs and moral values are an absolute must. "I think the most important thing to consider is whether your religious beliefs are compatible, and other beliefs as well," says one teen. But another respondent argues that differences are OK as long as two people are open with one another: "When two people get married, they need to be sure they know each other's faults and beliefs. Two people of opposing religions or political parties can, for the most part, make happy couples, with a little discussion."
Other teens admit that they have much to learn before knowing for sure what it takes to make a good marriage. "Other things that should be considered are compatibility, trust, being open and truthful, etc.," says one teen. "P.S. -- I could think of many more but I'm only a teen, I shouldn't be worrying about marriage. The one thing I really know is I do want to marry someday."
What Teens Thought in 1965
In a 1965 poll conducted for LOOK magazine, Gallup asked this same question of teens between the ages of 13 and 19. Then, as now, most teens believed that other things should be considered in addition to love. And even 40 years ago, teens' answers to the question about what people should consider were much the same as today: financial security, religious backgrounds, things in common, and respect.
*The Gallup Youth survey is conducted via an Internet methodology provided by Knowledge Networks, using an online research panel that is designed to be representative of the entire U.S. population. The current questionnaire was completed by 439 respondents, aged 13 to 17, between Aug. 8-19, 2004. For results based on the total sample, one can say with 95% confidence that the maximum margin of sampling error is ±5 percentage points.