GALLUP NEWS SERVICE
PRINCETON, NJ -- Gallup's annual survey on the honesty and ethical standards of professions finds improvement in the public's perceptions of six professions compared to the last time Gallup asked about them: pharmacists, military officers, judges, day care providers, newspaper reporters, and state officeholders. Perceptions of nurses' ethics dropped slightly this year, to levels found in 2000. Pharmacists and state officeholders are rated more highly now than at any time since Gallup started measuring the images of these professions over 20 years ago.
Gallup annually updates the honesty and ethics ratings of professions, first measured in 1976; 57 professions have been tested since the inception of the ratings. Each year, a rotating list of approximately 20 professions is tested. This includes yearly ratings of a core group of 11 professions, including nurses, pharmacists, lawyers, car salesmen, and business executives. The honesty and ethics list is usually updated in November, with the most recent polling conducted Nov. 19-21 of this year.
New Highs for Pharmacists, State Officeholders
Ratings of two professions that Gallup has measured for about a quarter century have reached new highs in 2004 -- pharmacists and state officeholders. The poll also finds increases in the honesty and ethical ratings of military officers and day care providers, although these two professions have been measured only twice in the past few years.
Druggists or Pharmacists
The current poll finds that 72% of Americans rate the honesty and ethical standards of pharmacists as "very high" or "high." When Gallup first measured the profession in 1981, 59% of Americans gave pharmacists this rating, and by the late 1980s, the percentage had increased to 66%. Throughout the 1990s, ratings of pharmacists averaged 65%, ranging from 60% to 69%. From 2000 through 2003, 67% of Americans, on average, rated pharmacists as highly honest and ethical. A few years after they were added to the list, pharmacists became the most highly rated profession, displacing clergy. However, nurses have generally topped the list since they were added in 1999.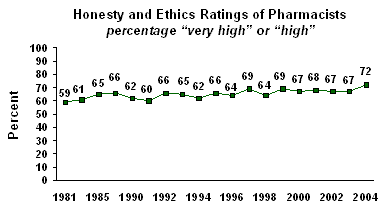 State Officeholders
Although ratings of state officeholders' honesty and ethics are relatively low, the current poll finds the highest ratings for this profession since Gallup first asked about it in 1977. Nearly one in four Americans (24%) rate state officeholders positively, up four points since 2000. Prior to the 2000 poll, positive perceptions of state officeholders' ethics ranged from 11% to 17%.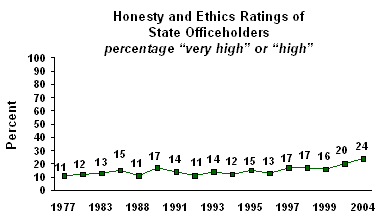 Military Officers
The U.S. military's successes in Fallujah, Iraq, around the time the current poll was conducted may have helped to improve the image of military officers. The poll finds 72% of Americans rating the ethical standards of military officers as very high or high, up from 65% in 2002, the only other time Gallup asked about this profession.
Day Care Providers
Although fewer than half of all Americans, 49%, give a very high or high honesty rating to day care providers, the percentage is up from a 41% rating in 1999.
Slight Increases for Judges, Auto Mechanics, Congressmen, Newspaper Reporters
Perceptions of the honesty and ethical standards of four professions -- judges, auto mechanics, members of Congress, and newspaper reporters -- increased marginally this year.
Judges
The positive ratings of judges' ethics increased from 47% in Gallup's 2000 poll to 53% in the current poll. The 2004 rating is the same as the one Gallup found in 1999.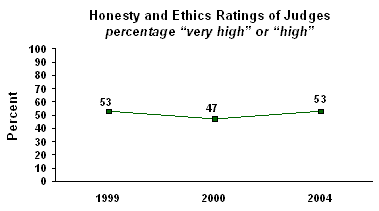 Auto Mechanics
Ratings for auto mechanics' honesty and ethics have been fairly low in every poll Gallup has conducted since 1999. At that time, 24% of Americans viewed auto mechanics' ethics positively, while 22% felt this way in 2000 and 2001. The latest poll finds a slight increase over the 2000 and 2001 surveys, with 26% of Americans rating auto mechanics' honesty and ethics as very high or high.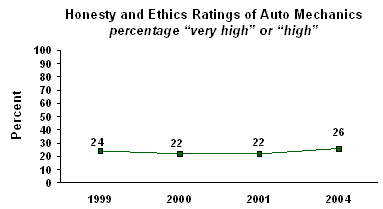 Congressmen
Since Gallup first asked about members of Congress in 1976, the average honesty and ethical rating has been 16%, with a high of 25% following the Sept. 11 terrorist attacks in 2001. The low of 10% was reached in 1994, just before the Republicans gained control of Congress, and in 1995, during the prelude to the federal budget standoff between President Bill Clinton and the Newt Gingrich-led Congress. Currently, 20% of Americans rate members of Congress as honest and ethical, up just slightly from 17% in 2002 and 2003.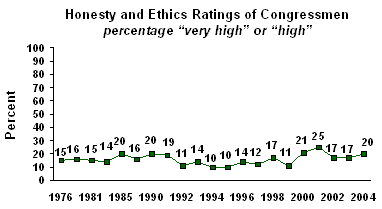 Newspaper Reporters
The honesty ratings of newspaper reporters also increased, from 16% "high" or "very high" in 2000 to 21% this year. Throughout the 1990s, the average positive honesty rating for this profession was 21%, the same percentage found in the current poll. Newspaper reporters were rated much higher in the early to mid-1980s (with an all-time high of 30% in 1981).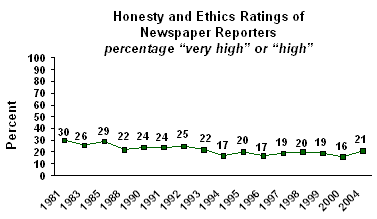 Perceptions of Nurses Drop Slightly This Year
Nurses are rated at the top of this year's honesty and ethics list, and have traditionally ranked at or near the top of Gallup's annual list. However, public perceptions of nurses' ethics show a slight decrease this year, dropping back to levels found in 2000.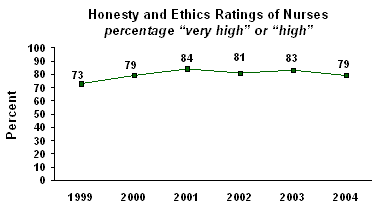 Eleven Professions' Ratings Show Little Change
The current poll finds little change in the ratings of these 11 professions:
Honesty and Ethical Standard of Professions
those showing little change this year





Year

Percentage
"very high"
or "high"


Year

Percentage
"very high"
or "high"


Change

%

%

Medical doctors

2003

68

2004

67

-1

Policemen

2003

59

2004

60

+1

Clergy

2003

56

2004

56

0

Bankers

2003

35

2004

36

+1

Local officeholders

2000

25

2004

26

+1

Nursing home operators

1999

22

2004

24

+2

TV reporters

2000

21

2004

23

+2

Business executives

2003

18

2004

20

+2

Lawyers

2003

16

2004

18

+2

Advertising practitioners

2003

12

2004

10

-2

Car salesmen

2003

7

2004

9

+2
From a longer-term perspective, however, several trends are noteworthy among these professions whose ratings show little change. Americans' ratings of medical doctors' ethics have been considerably higher over the past four years than at any other point since 1976. In fact, since 2000, "very high" or "high" ratings of medical doctors have averaged 65%, compared with an average 54% rating from 1976 through 1999.
Following 9/11, the image of the police improved substantially, and it has decreased only slightly over the past three years. In 2001, 68% of Americans rated the honesty and ethical standards of police as very high or high. This percentage decreased to 61% in 2002, but has remained essentially unchanged over the past two years. However, from 1977 through 2000, ratings of the police averaged just 46%.
Survey Methods
These results are based on telephone interviews with a randomly selected national sample of 1,015 adults, aged 18 and older, conducted Nov. 19-21, 2004. For results based on this sample, one can say with 95% confidence that the maximum error attributable to sampling and other random effects is ±3 percentage points. In addition to sampling error, question wording and practical difficulties in conducting surveys can introduce error or bias into the findings of public opinion polls.