PRINCETON, NJ -- For the seventh straight year, nurses enjoy top public accolades in Gallup's annual Honesty and Ethics of professions survey. Eighty-four percent of Americans call their honesty and ethical standards either "high" or "very high."
This year's results are based on a Nov. 7-9 USA Today/Gallup poll rating the honesty and ethics of workers in 21 different professions.
Nurses have topped Gallup's Honesty and Ethics ranking every year but one since they were added to the list in 1999. The exception is 2001, when firefighters were included on the list on a one-time basis, shortly after the Sept. 11 terrorist attacks. (Firefighters earned a record-high 90% honesty and ethics rating in that survey.)
Bankers Take a Hit
The standing of most of the professions surveyed in 2008 is similar to that of a year ago. The only significant change is a 12 percentage-point decline in positive ratings for bankers, from 35% to 23% -- not surprising given that the banking industry is at the center of the Wall Street meltdown currently gutting many Americans' investment accounts and destabilizing the U.S. economy. (Earlier this year, Gallup reported a similar decline in public confidence in banking as an institution.)
The 2008 Gallup Honesty and Ethics poll marks the first time since 1996 that the honesty and ethics of bankers has registered below 30%. The last time bankers took a hit of similar magnitude to their image was in 1988, when it fell from 38% to 26% during the savings and loan crisis. However, the 23% recorded today marks a record low for the field.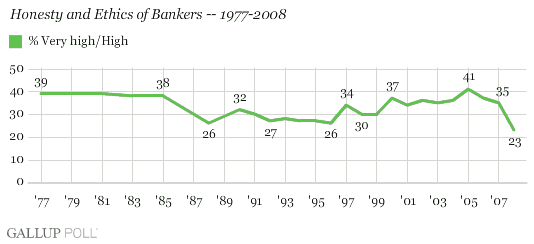 2008 Integrity Rankings
Nurses have no peer in the Gallup rankings today, but they are followed by pharmacists, high-school teachers, and medical doctors, all with close to two-thirds of Americans rating them highly. Just over half of Americans consider the honesty and ethics of clergy members and the police high or very high.
While fewer than half of Americans consider funeral directors or accountants to be highly ethical, these professions are much more likely to be viewed positively than negatively.
Building contractors, bankers, journalists, and real estate agents each receive relatively neutral ratings. About as many Americans think each of these professions has low honesty and ethics as rate them highly, while the plurality or majority consider these professions of "average" integrity.
While bankers could be faring much worse, a year ago they were in the top-rated category, with 35% rating their ethics high or very high and only 15% rating them low or very low.
Indeed, several professions suffer from a heavily negative tilt in their image ratings. The worst of these are lobbyists, telemarketers, and car salesmen, all of which are considered to have low or very low honesty and ethics by a majority of Americans.
Although several other professions -- congressmen, stockbrokers, advertising practitioners, business executives, lawyers, and labor union leaders -- are not as negatively viewed as the bottom three, the ratings for them skew negative by more than a 2-to-1 ratio. The 12% very high/high honesty and ethics ratings for business executives, although not appreciably different from the 14% recorded in 2007, is a record low for that profession. It had registered as high as 25% in 1990 and 2001.
Survey Methods
Results are based on telephone interviews with 1,010 national adults, aged 18 and older, conducted Nov. 7-9, 2008. For results based on the total sample of national adults, one can say with 95% confidence that the maximum margin of sampling error is ±3 percentage points.
Interviews are conducted with respondents on land-line telephones (for respondents with a land-line telephone) and cellular phones (for respondents who are cell-phone only).
In addition to sampling error, question wording and practical difficulties in conducting surveys can introduce error or bias into the findings of public opinion polls.