Anyone who's been in a big city has seen them. Some people avert their eyes and hurry by; others drop coins, or even bills, in their hands. But lone panhandlers aren't the only faces of poverty in the United States. Many families with children also find themselves in soup kitchens and shelters.
That's one reason, perhaps, why nearly two-thirds of Americans are concerned about hunger and homelessness in the nation, according to a March 2005 Gallup Poll*. "I was recently without a job for 18 months," says a 54-year-old respondent from Arizona in a follow-up interview, "and it made me realize that most of us take our good fortune for granted. But bad luck can happen to anyone." More than a third of respondents (37%) say they worry "a great deal" and another 27% worry "a fair amount" about hunger and homelessness. Thirty-five percent of Americans worry only a little or not at all.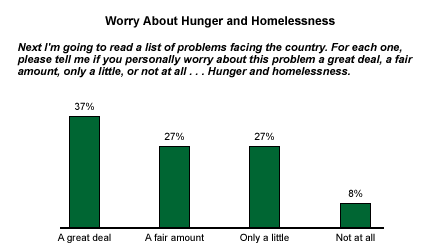 The poverty rate and number of families in poverty increased from 9.6% and 7.2 million in 2002 to 10% and 7.6 million in 2003, according to 2003 U.S. Census Bureau data. For all children under 18, the poverty rate increased from 16.7% in 2002 to 17.6% in 2003. The number in poverty rose, from 12.1 million to 12.9 million.
Poverty and Race
It's no surprise that nonwhites worry more than whites do about hunger and homelessness, 52% compared with 33%. According the U.S. Census Bureau, in 2003, 8.2% of non-Hispanic whites lived below the poverty threshold, 24.4% of non-Hispanic blacks lived below the poverty threshold, and 22.5% of Hispanics lived below that threshold.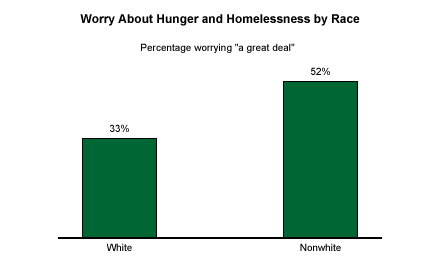 Ideological Differences
Forty-six percent of self-identified liberals worry "a great deal" about hunger and homelessness, compared with 29% of conservatives. But some conservatives may be sympathetic to the plight of the poor even if they don't express worry, as evidenced by the remarks of one poll respondent. An 82-year-old ideologically conservative woman from Missouri says she does not worry at all about hunger and homelessness in the United States. But she quickly qualifies her response: "It's not that I'm not concerned about others. I know poverty and homelessness are huge problems in the big cities. But I live in a small town where I'm not faced with it on a daily basis so I don't think much about it. However, I'm a member of the local Methodist church and we do give money to groups all over the country and the world to help alleviate suffering."
A 68-year-old man from Maryland, a self-described "100%, military-loving, flag-waving conservative," says he worries "a fair amount" about hunger and homelessness in this country. "I'm a conservative, but only on certain issues … The U.S. is the land of milk and honey and charity should begin at home. We send too much aid overseas to countries that despise us," he concludes.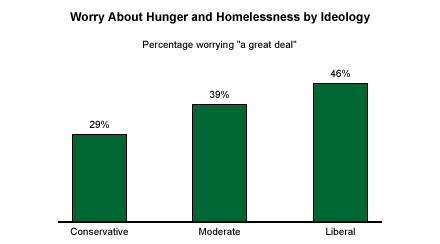 Poverty and Religion
People who attend church or synagogue on a regular basis are slightly more likely to worry a great deal about hunger and homelessness than those who seldom or never attend. Forty-one percent of weekly attendees say they worry "a great deal," compared with 32% of those who rarely or never go to religious services. Religious organizations have historically spearheaded programs to help the needy -- operating soup kitchens and rummage sales and providing daycare for children, among other efforts.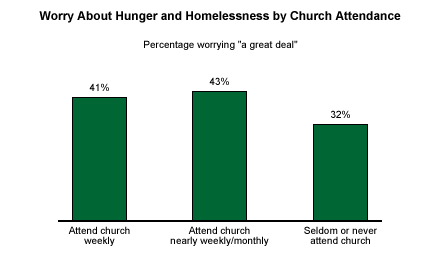 Some churches have begun housing the homeless. Interfaith Hospitality Network (IHN), a national nonprofit organization, sets up a network of local churches to house and feed homeless families until they can secure permanent housing. When Trinity Church in Princeton, N.J., wanted to help the growing number of homeless families in the area, outreach minister Margaret Prescott contacted IHN and worked with church members to transform a house on church property into transitional housing for homeless families, most of whom she notes are mothers with small children.
Can they possibly do more? "Absolutely yes," says Prescott, "The next step for Trinity is to buy property to place at least two to three more families in transitional housing in the next five years." Prescott feels that with recent cuts in federal funds for housing assistance, the need for assistance from religious and nonprofit groups is greater than ever: "We will only have more homeless families in the years ahead, not fewer."
*Results are based on telephone interviews with 1,004 national adults, aged 18 and older, conducted March 7-10, 2005. For results based on the total sample of national adults, one can say with 95% confidence that the maximum margin of sampling error is ±3 percentage points.